Let Me Count The Ways I 40-Love Serena Williams
And let's just say there are many...
I thought about launching into a bit of Elizabeth Barrett Browning's How Do I Love Thee but there are simply too many ways to list one's admiration for the greatest sportswoman there ever was.
Especially after she took to the court in a tutu overnight at the US Open and won the fashion game, as well as her first-round match, beating Poland's Magda Linette, 6-4 6-0.
This was a statement and not just a fashion one by the 23-time Grand Slam winner.
Last week, French Tennis Federation president Bernard Giudicelli, interviewed in Tennis magazine, said the slick, full-length black catsuit the new mum wore earlier this year at the French Open wouldn't be back because #etiquette.
"I think we sometimes went too far. The combination of Serena this year, for example, it will no longer be accepted. You have to respect the game and the place,'' he said.
It's a shame that same wasn't afforded to Serena Williams.
That catsuit was more than a fashion moment.
Serena spoke at the time about how her outfit was largely a decision about her health. She has a history of blood clots and developed one after the birth of her first child, Alexis, in September last year declaring her kit was a nod to "all the moms out there that had a tough pregnancy."
"I've had a lot of problems with my blood clots. God, I don't know how many I've had in the past 12 months. I've been wearing pants in general a lot when I play so I can keep the blood circulation going,'' Williams told media at the French Open.
So, after being critiqued by the French fashion police, Williams returned to Flushing Meadows for the first time since 2016 in a black one shouldered tutu dress, designed by Virgil Abloh for Nike. Complete with full tulle skirt, Nike swoosh and "LOGO" a trademark of Abloh's Off White label, mind you.
Fashion faux pas are hardly a new cause for contention in tennis, an elitist sport born on English tradition and played in white because of Victorian beliefs based on class and hygiene.
For decades players have copped criticism for their on-court attire, Gertrude Moran was on the end of it in 1949 for wearing lace shorts underneath her skirt. Oh my!
Fast forward to the electrifying 80's and American Anne White's 1985 white Lycra body suit was slammed by Wimbledon officials and her opponent, and fellow countrywoman Pam Shriver, who dubbed it "the most bizarre, stupid, looking thing I've ever seen on a tennis court."
Not even the legend that is Andre Agassi is immune. In 1990, the eight-time Grand Slam champ had his colourful get-up in a twist when French Open officials opted for an all-white dress code.
"The idea is to make tennis enjoyable for people. Why don't they take a survey? Instead of asking some old guy behind a desk,'' Agassi said.
Agassi's on the money when it comes to the enjoyment of tennis and not many have provided more of that than Serena.
We applauded her when she revealed she won the Australian Open while pregnant, bowed down when she was back on court in February at the Fed Cup just five months after birth and hollered #yasssqueen when she donned that catsuit, even more so when she explained its meaning, in June.
Serena would look fabulous, and most importantly play brilliant tennis, in a potato sack. Let's just soak up the enjoyment she brings to the sport while we can and savour watching one of the finest athletes of all time.
We're lucky to have her. Something those at Roland-Garros would do well to remember.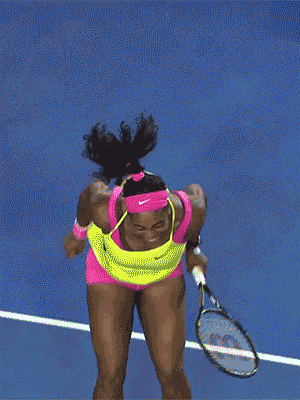 Feature Image: Getty