NZ Town's Smiley Rebranding Comes At A Price
Wellington's Porirua region has got a new look, but not everyone is as happy as their logos seem to be.
As one of four regions in Greater Wellington, the city of Porirua sometimes gets overshadowed by its big brother, Wellington City.
Wellington is of course home to Weta Workshop, the major special effects firm that worked on Peter Jackson's Lord of the Rings films and dozens of other Hollywood blockbusters, including Avatar.
But not to be outshone, Porirua has now released their own avatar design.
You can see it above. Hollywood is yet to call.
The wonky smiley face on the left, with the suitably Kiwi-ish green backdrop, is for the city council's Facebook page. While the city's libraries have been given a distinctly different look, with a Navi-esque blue face.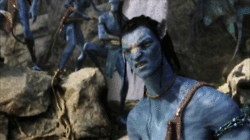 Sure, it looks like the design was done in around 2.5 seconds by someone in kinder.
But the council were nonetheless happy, saying the design was chosen because it "reflects our desire for Porirua City to be seen as friendly and welcoming and the style connects with our youthful population".
The under-5s will be particularly thrilled. Suddenly a career in graphic design seems well within their finger-painting reach.
But residents were not so thrilled, with Facebook users seeing the image for the first time describing it as "tragic", "an insult", or simply replying with a hand-drawn unhappy face.
Although, to be fair, one wrote "This is the most Kiwi thing I've ever seen. I love it."
The lobby group the New Zealand Taxpayers' Union is finding it tough to put on a happy face, having found, via an official information request, to part with over NZ$98,000 (AU$95,000) for the council's overall rebranding
"The official new avatar for the council, which you would expect to be [emblematic] of the rebrand's quality, is a limp and childlike smiley face," says NZTU spokesman Louis Houlbrooke.
"When Porirua ratepayers gaze long enough into the face, the council's 5 per cent annual rate hikes gaze back."
But Mayor Mike Tana says the claims are misleading, as less than $875 of the budget went on the logo design.
"What we want to see is a city that's joined together," the Mayor said of the highly divisive design.
The documents released to the Taxpayers' Union state the smiley face logo is "from a series of social media avatar files which were designed and supplied to Porirua City Council for the cost of $875 [ex GST]. It is not possible to provide an itemised coast for just the smiley face one."
Presumably it also included their Instagram profile pic, which has the smile replaced with a cheeky tongue – which may double as a P for Porirua if you tip your head sideways.
It may also be symbolic of how the designers felt when given less than a thousand dollars to design a brand for a city.
The cost breakdown revealed a $30,000 on strategy and brand development and guidelines, as well as almost the same on design – including for the social media avatars.
And if the aim of a rebranding is to increase brand awareness, this can be considered a massive success!