The Robots Are Coming – With Your Packages
Our streets could soon be buzzing with the sound of robot couriers making door-to-door deliveries.
Robot news often brings terror to those of us with beating hearts.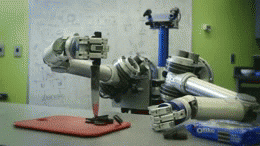 But today we bring you some news a little closer to the 1950s dream of bots whizzing around doing all our menial tasks.
Leading delivery company FedEx is experimenting with delivering packages via an unmanned vehicle which looks a bit like a bar fridge on wheels.
The delivery company launched the battery-powered robot courier – known as the SameDay Bot - via a video.
So cute! Check out that acoustic and very human soundtrack with barely any hint of mechanical global domination.
The robot has a top speed of around 16 kph and can carry a load of around 45 kg, and is equipped with several cameras for detecting obstacles and its environment, as well as radar and laser-based mapping tools.
No mention of a death ray. Possibly an optional extra.
The bot was designed with DEKA, whose founder invented the world-changing-actually-not-really Segway.
It will be testing the bots in several American cities, pending approval from authorities.
FedEx announced on Wednesday that it is working with companies including AutoZone, Lowe's, Pizza Hut, Target, Walgreens, and Walmart as part of a "last-mile" delivery strategy for food, groceries, parts, supplies, and more.
"The bot represents a milestone in our ongoing mission to solve the complexities and expense of same-day, last-mile delivery for the growing e-commerce market in a manner that is safe and environmentally friendly," said Brie Carere, FedEx's chief marketing and communications officer.
The SameDay Bot was unveiled via a cameo on Jimmy Fallon's Tonight Show where it delivered a pizza to the host.
The question is, can we really trust robots to take care of our precious deliveries as well as our fellow humans?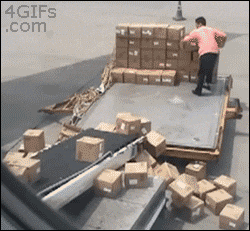 Hmm, that animated GIF makes a good point. Maybe robots really are the best way forward for deliveries. After all, what's the worst that could happen?