Nomophobia Named Word Of The Year… By Some
Cambridge Dictionary has named Nomophobia their word of the year for 2018.
The word Nomophobia has been named Cambridge Dictionary's word of the year. And no, it doesn't mean a fear of not being able to grow a mo, even though it should be, because this is a very real fear. It is defined as the "fear or worry at the idea of being without your mobile phone or unable to use it."
Lucky for me, I don't suffer from Nomophobia, mostly because I'm writing this article on my mobile phone.
It now officially tops the previous worst words of yesteryear, with "staycation," "youthquake," and "yesteryear."
The word was first used in writing in 2008 by the UK post office. Talk about giving us the worst delivery of the year! If only we could return this word back to sender.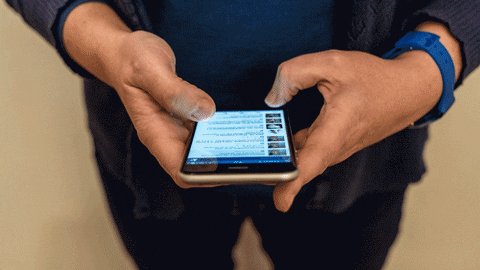 (Credit: Giphy.com)
According to the DailyMail, the word has grown in popularity over the years. However, we disagree. The last time we heard anyone say anything remotely close to Nomophobia, it was at the office Christmas party when someone made an incoherent mumbling after mixing wines.
Cambridge Dictionary named several runners up, which included the words gender gap, ecocide, and no platforming.
As for Oxford Dictionary, their word of the year was "toxic," while Dictionary.com awarded the word "misinformation."
It's almost 2019, which is great because it means we can hopefully leave behind words like Nomophobia in 2018. If there's one thing we can all agree on, it's this: No-mo weird words, no-mo problems.