'French Spider-Man' Doesn't Solve Any Crimes, But May Have Committed One
Building climber arrested again in London
He calls himself the 'French Spider-Man'. Although he doesn't catch criminals as such. In fact, after scaling one of London's tallest buildings, Alain Robert has gotten himself arrested.
Again.
The 56-year-old scaled the 46-storey, 202-metre tall Salesforce Tower (formerly known as the Heron Tower) without any ropes or safety equipment.
Robert reached the top at 2:14pm on Thursday, to cheers from the crowd which had gradually assembled to watch his ascent.
But among them were police, who cordoned off the building and instructed the onlookers to stand back.
They later said they had arrested a 56-year-old man on suspicion of causing public nuisance.
It's just lucky he didn't go one Spider-step further and randomly spray webs around.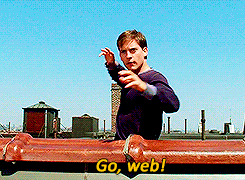 "He just wanted to climb in London," said Robert's manager, Bryan Yeubrey.
"He's climbed here before… Alain does his own thing, he's a free spirit, probably the world's greatest adventurer, and he's climbed 160 of the world's tallest buildings, mostly with his bare hands."
Indeed some of the buildings Robert has conquered include the Burj Khalifa in Dubai, the Eiffel Tower, Chicago's Sears Tower, Taiwan's Taipei 101, the Empire State Building, and the Sydney Opera House, Harbour Bridge and Sydney Tower.
He's even done some climbing in Spider-Man costumes for promotional purposes.
Robert addressed the media prior to the climb to explain what's behind his 44 year long passion for climbing.
"I fully feel alive when my life is at stake. It may sound a bit scary and crazy but this is the way it is."
He said he chose the Salesforce Tower that morning from a short list of three London buildings.
"I saw it. I touched it a bit. I tried it just a tiny bit. I am not really knowing much. It is only really when I start climbing that I know. I need to feel it," he said.
Yet somehow gut feel has been enough to get him through.
Having seen it many times before, Yeubrey correctly predicted the police response.
"Now he will be arrested and go to court. Hopefully they will not be too hard on him because actually he is a really good guy."
Police Commander Karen Baxter wasn't in a very forgiving mood.
"The incident this afternoon has had a considerable impact on police, other emergency services and the local community. Our officers, the London Fire Brigade and the London Ambulance Service all attended this incident, taking them away from genuine emergencies," she said.
"Road closures meant a significant disturbance to local transport and businesses and their staff located in the building were also considerably affected."
Maybe they'll rethink their stance if they ever have to tackle Dr Octopus or Green Goblin.