Streaker Sets Up GoFundMe Page To Help Pay Fine
Nudie runner outsources payment for fine.
Vision of Lucas Garth running naked through the Morning Peninsula Nepean grand final has racked up 100,000 views online, on top of the roughly eight thousand pairs of eye-balls that saw all of him at the game. The run came with a lot of views but also a bill as copped a solid $900 fine for his effort.
The internet shared the streak around so Lucas has turned to the web to also help him pay off the fine by setting up his own GoFundMe page.
He's already raised $620 from people eager to throw some cash the way of the naked sprinter.
GoFundMe is often used to help people in their time of need and as Lucas writes on the site "If you got a giggle out of the nudie run and have a few spare bucks feel free to chuck in for the fine." So you could give to a good cause, or you chuck a buck or two towards Lucas and his bits.
His streak took off online because the run ends when he gets tackled by one of the security guards at the ground. Lucas told the Herald Sun that he was a bit disappointed in his effort on the day saying, "I was only in second gear at that stage. If I knew somebody was coming I would have put my foot down."
"I was doing a bit of showboating. I'd taken my foot off the accelerator, that's for sure, and he (the security officer) absolutely smoked me from behind."
It makes sense that he needs helping paying the fine, it's quite clear from the video evidence that he did not have his wallet on him.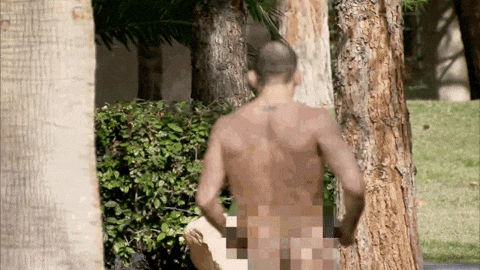 Whether Lucas will be back remains to be seen.
"I've done a couple of nudie runs but this was definitely the most public one," Lucas told the Herald Sun, "If it was up to me I'd do it again in a heartbeat. It was so much fun." So if you do donate to his GoFundMe, maybe save it to favourites it sounds like he might need your help again in the future.