Who'll Win The Brownlow? It's All In The Hair…
Bald and blond players grab the lion's share of umpire's votes
Want a hot tip for tonight's Brownlow Medal? Keep your eyes on the hair… or even more so, the lack of it.
Because while footballing prowess undoubtedly plays some sort of a part in winning a Brownlow, it's long been suspected that a distinctive hairstyle is the key to attracting the umpires' attention, and now statisticians have pored over 20 years of data and confirmed it.
In fact players with a bald or shaved head get almost twice as many votes per game as those with black or brown hair, while blond hair gives you a 45 per cent boost.
As part of the research for his recently-published book on AFL data Footballistics, ABC sports journalist James Coventry set out to tackle the question of Brownlow hair, and engaged the help of La Trobe University economics lecturer Dr Liam Lenten.
They classified players by hair colour – tracking changes in players' personal styling through the years.
"When I set about writing the book, I thought this was one thing I wanted to make a call on either way," Coventry told the ABC.
"It's something that's been repeated so often in the media and unfortunately this was the only way I was going to be able to do it — to sit down and create my own data set."
The most common hair colour was brown, which accounted for 60 per cent of players. Black was next most common at 19 per cent.
Black-haired players received an average of 0.129 votes per game, essentially the same as brown-haired players at 0.128.
Blond players made up just 7 per cent of players, but those players managed to scoop up 0.187 votes per game, while just 3 per cent of players went hairless – and they nabbed a huge 0.244 votes per game.
Of course there have been a couple of decent follicle-challenged players over the last 20 years, and I don't think anyone would suggest that Chris Judd and Gary Ablett Jr didn't deserve a Brownlow or two.
So to make sure that it wasn't purely a bias due to bald players being better (perhaps lower wind resistance?), Dr Lenten carried out a statistical analysis known as regression to determine whether votes were correlated with players' stats in the games, a total of over 150,000 statistical observations.
And the results were the same. Being bald or blond increased a player's likelihood of receiving votes compared to others who had performed the same.
"All else being equal — such as factors like experience, or the number of disposals a player gathers — if you have a blond-haired player, a brown-haired player and a red-haired player, the blond-haired player will attract more votes," Coventry said.
It's believed that the bias is due to a psychological phenomenon known as the 'pop-out effect', meaning that things that are different are more memorable. So when the umpires gather after a hard day's whistle-blowing to choose who played the best, those distinctive hairstyles do make a difference.
And of course that's not all down to hair colour. The last three Brownlow winners were all brown-haired, but Nat Fyfe had a flowing mane, Patrick Dangerfield sported a distinctive beard, and Dustin Martin's cropped mohawk and mass of sleeve tatts is pretty distinctive in a crowd.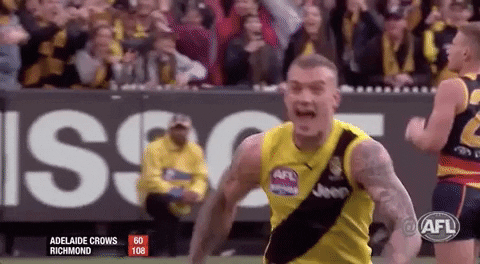 Tonight's red hot favourite, Hawthorn's Tom Mitchell, has had a monster of a year, with eleven games of 40 possessions or more. So his hair colour shouldn't come into it.
But his blond hair shouldn't hurt. Especially since Martin trimmed back his mohawk.
Featured Image: AAP Image/Julian Smith