Kylie Meets The Man Who Shed 65 Kilos – All Thanks To Her Music
Jayden Norsworthy lost over half his body weight – and he says it's all thanks to Aussie pop princess Kylie Minogue.
The 26-year-old from Adelaide has been a fan of Kylie his whole life, and was pulling out dance routines to her songs from a very young age.
"I started with the Spice Girls originally," Jayden recalls, "but when they broke up, there was obviously a space there, a massive hole in my life which needed to be filled and there was Kylie. She appeared out of the mist and… yeah, the rest was history."
But as he grew up, he stopped his dancing and lip-syncing, feeling self-conscious and subjected to high school bullying.
"I was the biggest kid in my year level," he says. "I was very flamboyant and liked feminine things, I didn't fit into that boy mould."
By the time he reached the age of 18, Jayden was in a dark place, and was tipping the scales at 130 kg. He had no success with weight loss programs.
But he couldn't get Kylie out of his head. And when he saw the video to Kylie's Get Out Of My Way, it inspired him to change up his own life.
"I saw the video and I was like, why don't I go back to what I was doing as a 6-year-old and dancing, not necessarily to lose weight but for the fun of it, and see whether I can amp it up a bit."
After all, a Kylie dance-a-thon is definitely a pretty serious workout.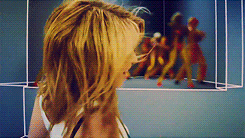 Starting by dancing for 20 minutes a day, aided by Ventolin, Jayden gradually built up his session times.
Before long, Jayden was spending 90 minutes a day spinning around to Kylie's tunes. And over 18 months, he lost half his body weight.
Meanwhile though, Jayden was facing more bullying, now in his workplace. As a teacher in a maximum security facility for young people, he was subject to homophobic verbal abuse and bullying by both the students and staff.
But he decided to tackle the bullies head-on – and show a video of him dancing in heels to Kylie at the end of year assembly.
The response shocked him.
"To have those people turn around – we are so proud of you and well done on everything you've done. It blew my mind. You can talk about change, you can talk about diversity, you can talk about empathy for other people and difference in our society, but to see it modelled, unreal."
When he saw there was a competition for a huge fan to meet Kylie backstage, there was no question Jayden was going to enter. His dancing videos and weight loss story made him stand out from the crowd – and this week, Jayden got to finally meet the fabulous Ms Minogue.
Kylie told him his story was "incredible", and even asked him to show her some of his dance moves.
Jayden says he feels like he's stepped into a whole new world.
"I've never been happier and more content. And confident in myself, and to go from a period of time where I wanted to be anything but me. There is only one Jayden Norsworthy and I couldn't be happier that it's me. And that is the greatest feeling of all."