Alabama Car Dealer Offers Free Gun With Every Car
Chatom Ford is celebrating American Independence Day with an "only in America" offer: a free flag, bible and 12-gauge shotgun with every new or used car, truck or SUV.
That's right, from now until the end of July, you can buy a car and get yourself a complete redneck starter kit.
Just one more way the good people of Alabama can celebrate the 4th of July with fireworks AND firearms.
The dealership's Coby Palmer announced the deal on Facebook in a video post last week, and the post has subsequently received a flood of attention.
"It's grown a lot more than we anticipated," Palmer told Fox News. "It was just something we just threw together."
"We had no idea it was going to spread outside of our little bubble here in South Alabama."
But apparently business is now booming.
"It's not even been three full business days since then and we've already sold in excess of five, just because of the ads," Palmer said.
At this rate, they must be racking up loads of loyalty card points with their local firearms dealer.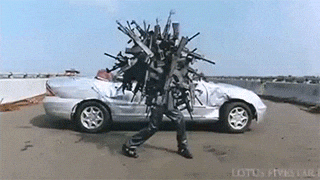 They're calling their campaign "GOD, GUNS AND FREEDOM", as their offer is celebrating the freedom in the great state of Alabama to do anything. (Except terminate a pregnancy, of course.)
The yard have continued to post Facebook updates with an abundance of capital letters and multiple exclamation marks, indicating either their unbounded excitement, or the need to shout to be heard over the constant stream of gunfire.
Feedback on their page has been overwhelmingly positive. After all, if there's three things Americans look for in their cars, it's a religious book, patriotic fabric and deadly weapons.
It's such a cringeworthy American campaign. I mean, you'd never see Australians trying to sell cars by blatantly associating it with a trio of patriotic cliches.
UPDATE: The card yard has now ended the promotion following a request from the Ford Motor Company, replacing the shotgun with a "gift certificate, to use wherever you want, for whatever you want - it's your right".