Hands Up Who Left The 'T' Out Of Their Name… Chris Hemsworh?
Avengers assemble! We need all hands on deck to find out what's happened to Thor's 't'.
Chris Hemsworth was one of six stars of the Avengers franchise who left their handprints in wet cement outside Hollywood's TCL Chinese Theatre on Tuesday to mark the launch of a little film you may have heard of called Avengers: Endgame.
But it's hard to tell an Avenger from a regular human by their handprints, so Chris Evans, Robert Downey Jr., Scarlett Johansson, Mark Ruffalo and Jeremy Renner wrote their names underneath their handprints.
The 35-year-old Aussie, however, wrote the name of someone called 'Chris Hemsworh'. That's no typo. Or even an ypo.
Chris does seem to have made a half-hearted attempt to squeeze half a 't' in between the 'r' and 'h'. But to call it a letter would be an insult to the rest of the alphabet.
And frankly such a half-arsed effort is not in keeping with the man behind Thor, or should I say, Hor.
(Not that the god of thunder is known for his spelling, but he could probably nail his own name.)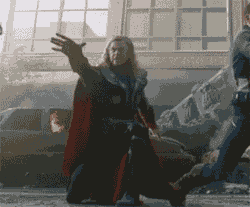 Once questions started being raised, the Theatre reassured us that all was well.
This tweet is unavailable or no longer exists.
And I guess it is. Though it's tiny, capital and upside-down.
Or maybe they're referring to that hammer icon on the left hand side.
OK – let's be fair to this great Aussie legend. Perhaps the bottom of the 't' and the bottom of the 'h' are one and the same, and he's been pressed for room.
It could be that Chris is out of practice with fitting his name into a confined space. Indeed, when he was given a practice go, he left out even more letters.
This tweet is unavailable or no longer exists.
I don't see any 't's there either. What I do see is an alternate stage name that could have really taken off.
Maybe he should have gone done the Chris Evans route, and used his practice print to work out his letter spacing.
This tweet is unavailable or no longer exists.
OK, so the other Chris' spatial awareness of his name isn't that great either, but that's what drafts are for.
And sure enough, Captain America learned from his mistakes for the big moment.
Here's hoping for a new installment in the Marvel Cinematic Universe...
Thor: Spellcheck.