Hurry Up And Grab Yourself Some Mr. Squiggle Coins - The Money From The Moon!
A new set of seven coins are being released featuring the beloved characters from the long-running ABC children's show, Mr. Squiggle.
The famous man from the moon, whose pencil nose allowed him to turn squiggles sent in by viewers into works of art, is featured on the first of the series of limited edition $2 coins, which will be released over the next four weeks.
The coins mark the 60th anniversary of the first broadcast of the show, originally known as Mr. Squiggle and Friends, which ran for 40 years until 1999.
The complete set is made up of four $2 coin designs, two $1 coins, and an anachronistic one cent coin to remind us of a time when that might buy you half a mixed lolly.
The genius of Mr Squiggle's particular artistry fascinated kids, and led many to take up drawing themselves. Though of course there was a shocking twist in the alien artist's armoury: the "upside-down" reveal.
Still amazing today. Spoiler alert: the frequency of upside-down drawings was due to creator and puppeteer Norman Hetherington's unique design, where he manipulated Mr. Squiggle from above via his hat.
Which also might explain why he was always so keen to go for a spacewalk, to give Norman's arms a rest.
Hetherington passed away in 2010, but the new coins have been given the stamp of approval by his family.
"The illustration on the coins was approved by us, it's very personal for us," his daughter Rebecca, who hosted the show for its final decade, told News Corp.
"It's just incredible what they can get on such a tiny surface, but it truly represents Mr Squiggle and the other characters and their quirks."
The $2 coins are being released a week at a time through Woolworths. But to get the $1 and 1c coins, you'll have to buy the collectible album for $15.
The coins for the second and third week feature Bill the Steam Shovel and Gus the Snail.
And guess who drops in for the final week?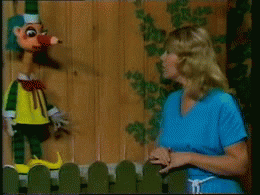 So next time you get a two buck coin that just seems to feature a portrait of the Queen, remember – it might just be 'Upside-Down, Upside-Down!'