The Prime Minister, Now In Bus Form
It's the party bus! The Liberal National Party bus!
All aboard the SloMo Express!
Oh wait, that should be "ScoMo Express". It's just that autographed nickname on the side of Scott Morrison's new bus is easy to misread.
With Queensland being the home of many of the country's most marginal seats, the PM has decided to embark on a charm offensive of the Sunshine State aboard a sky-blue bus emblazoned with his photograph and folksy signature.
With an election due by May, and the government further behind in the polls than they were under Malcolm Turnbull, Mr Morrison is trying to get an early start in shoring up support in the critical state.
And he's taking the traditional political route of turning himself into a vehicle. Zoom zoom! I'm going places - literally! And therefore metaphorically!
His bus emphasises that he's "Backing Queenslanders" with an underline that goes all the way to the space prior to the Q. Perhaps indicating how far ahead of the game they are. Or that with only a couple of months since he became PM, they haven't had time to waste double-checking formatting.
Mr Morrison began his Queensland campaign on Sunday, announcing a multimillion dollar pipeline to secure Townsville's water supply.
And today his bus pulled in to the Gold Coast, appropriately for the PM to announce public transport funding, for the city's light rail network.
"The Gold Coast is a big and growing city and its going to continue doing that over the next 20 years," the PM said on radio this morning, "which is why it needs this infrastructure to deal with that population growth."
The light rail will need significant state government commitment too. Though if it doesn't secure it, perhaps ScoMo can donate his bus.
Mr Morrison is expected to make stops in the electorates of Logan, Forde and several Brisbane-based seats, along with Rockhampton, Bundaberg, Gladstone and Mackay, taking in the marginal seats of Capricornia, Flynn and Dawson.
Of course, he's just the latest politician to emblazon himself on a bus. Indeed Opposition Leader Bill Shorten has a matching vehicle in ALP red.
Tony Abbott and Pauline Hanson have also stuck their mugs on tour buses – and Hanson also had her controversial donated One Nation plane.
And while they're great for touring around this great country, they're not exactly rock'n'roll. The motto is less "what happens on tour stays on tour" and more "what happens on tour is immediately reported by the journos travelling on the bus with you".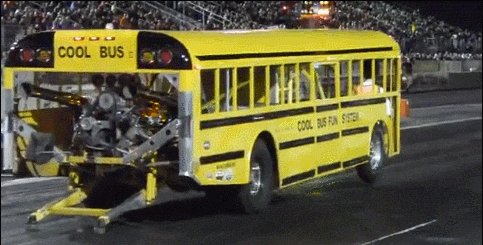 Meanwhile Bob Katter is rumoured to travel around his huge electorate of Kennedy on a Katter-branded sleigh, pulled by a dozen crocodiles which he has personally defanged.
And while Malcolm Turnbull didn't have a bus with his face on it, his election campaign of "Continuity and change" seemed to be pulled straight off the bus of fictional US president Selina Meyer in Veep.
ScoMo won't make that mistake again. His bus has no explanation for why he's replaced Malcolm as Prime Minister.
But hopefully he's keeping it "fair dinkum" and has somehow figured out a way to run his bus on coal.