Mum Gets On Board The #HimToo Movement, Backfires Immediately
This mum has taken embarrassing her son to a whole new level
What you need to know
Florida mother uses her son to get on board the #HimToo movement
She inadvertently turns her son into a Twitter meme
He responds to his viral fame in the best way possible
Mums can be embarrassing. Especially on the Internet. And especially when they try to get involved in an online anti-feminist movement and inadvertently turn their son into a meme.
Which is exactly what one mother has managed to achieve in trying to use a photo of her son to endorse the #HimToo 'movement.' If you don't know what #HimToo is then, firstly, congratulations. And, secondly, sorry for having to bring this to your attention.
It's a response to the #MeToo movement where men use the hashtag to claim that false accusations of rape and sexual assault are being exploited by women. If you're a man and you'd like to join the #HimToo movement, all you need is a fedora, a neckbeard and to still be living with your parents well into your 40s.
Though it seems that it's not only men who are part of the movement. A mother in Florida posted a photo of her son on Twitter under the username BlueStarNavyMom3 (presumably because BlueStarNavyMom1 and BlueStarNavyMom2 were already taken) and wrote: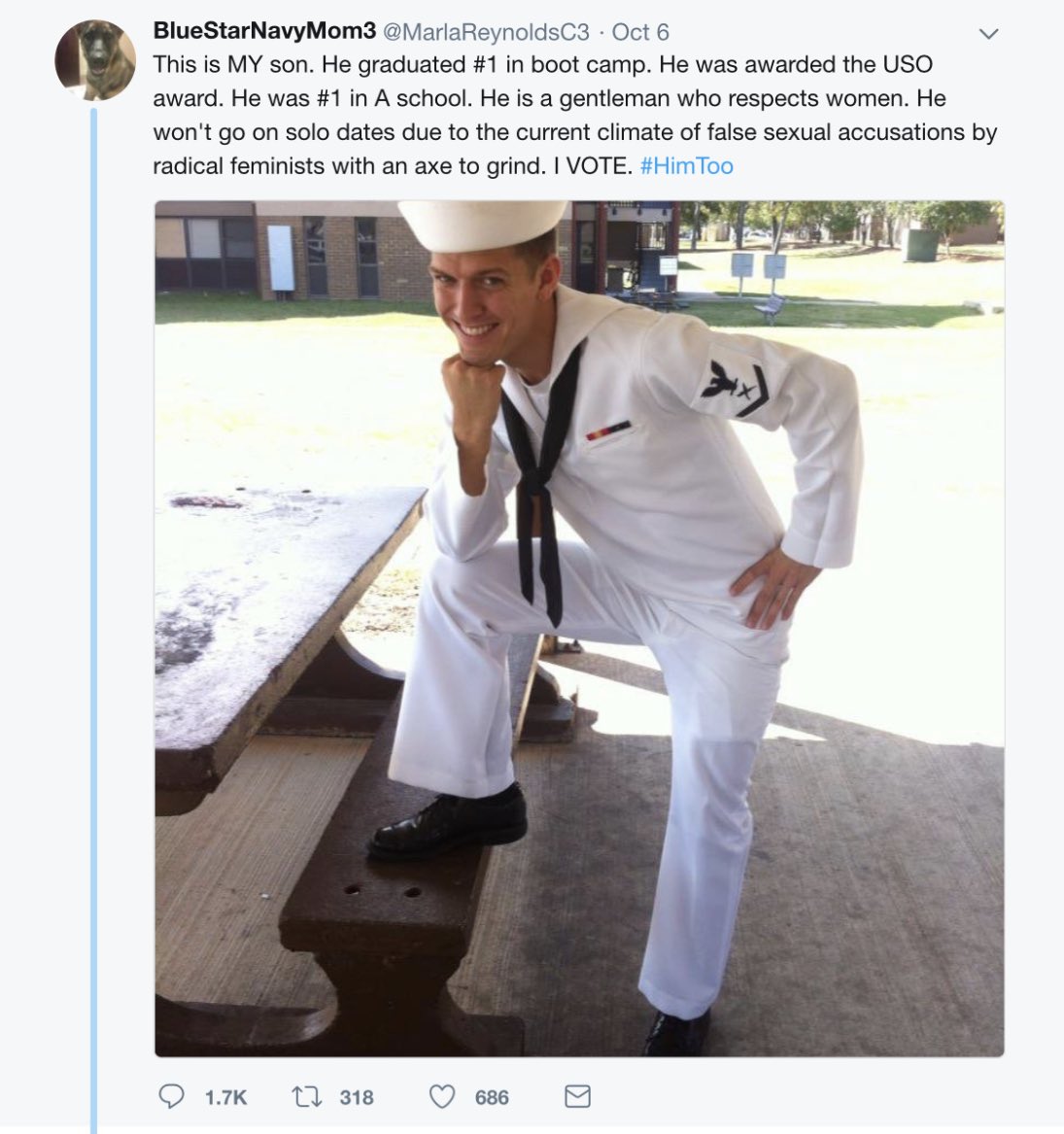 "This is MY son. He graduated #1 in boot camp. He was awarded the USO award. He was #1 in Army school. He is a gentleman who respects women. He won't go on solo dates due to the current climate of false sexual accusations by radical feminists with an axe to grind. I VOTE. #HimToo."
Cue the Internet. Her post immediately became a meme with people posting their own parodies. Below is this writer's favourite:
So, who exactly is this woman's son? Well, it turns out his name is Pieter Hanson, and he did not have a Twitter account until his mother made him famous. So, he created his own with the username @thatwasmymom to address his mum's post and wrote:
"That was my Mom. Sometimes the people we love do things that hurt us without realizing it. Let's turn this around. I respect and #BelieveWomen. I never have and never will support #HimToo. I'm a proud Navy vet, Cat Dad and Ally. Also, Twitter, your meme game is on point."
Ironically, we reckon he's going to get a lot of dates out of this.