Pauline Hanson Calls To Cancel QLD's Olympic Bid
In a shocking turn of events, Senator Pauline Hanson has argued for something the public may deem reasonable (for once!).
On Chanel 9's Today show, Hanson voiced her strong opposition to Queensland's 2032 Olympics bid.
Premier Annastacia Palaszczuk, with the support of Prime Minister Scott Morrison, last month announced that Queensland will bid for the hosting rights for the 2032 Games as part of a southeast Queensland joint bid. This will feature facilities across Brisbane, the Gold Coast and the Sunshine Coast.
As attitudes towards the Olympics have changed over time, internationally it is now considered a significant economic and social risk to be entering the bidding process to host the biggest international sporting event.
Brisbane hosted the 1982 Commonwealth Games and the Gold Coast hosted the Commonwealth Games in 2018, with mixed reviews of both events. Many taxpayers join Pauline Hanson in asking is the economic loss worth it?
More recently, Japan has infamously blown their initial 2020 Olympic games budget bid of 700 yen ($US 6.5b) to a whopping $US 12.5b, creating a great deal of public angst. Similarly, the most recent Summer Games in Rio de Janeiro were also a huge economic disaster for host country Brazil, with many of the facilities being abandoned shortly after the games.
Speaking in her usual frank style, Hanson argued to Today co-host Karl Stefanovic: "It is estimated to cost about $8.9 billion to hold the Olympics. This has always blown out. Can we afford it? No, we can't."
She then expanded on her point, speaking for the people from her electorate.
"The fact is we are talking about 12 years down the track. If we have a debt in Queensland of $90 billion now, we have incompetent governments and they have no regard for taxpayers in this state and where the money goes.
"As far as I am concerned we don't need it here in Queensland. I have spoken to people in rural and regional areas of Queensland. They don't want it, they won't get the benefits out of it. They are sick and tired of seeing everything going to South East Queensland."
Whilst some opponents may argue that the Olympics build revenue for Australia, there is little guarantee or indication that this would happen, judging from recent international sporting events of the same scale.
Now, if you're feeling weird at the thought of actually agreeing with Pauline Hanson on an issue, don't worry, we do too! Given her recent public stints, it's hard to imagine Hanson saying anything that is not hugely contentious.
You may be remembering the time she wore a burqa to the Parliament senate to argue against multiculturalism.
Or perhaps you remember her publicly disclosing crazy theories such as: "I believe we are at risk of Asians swamping Australia".
Her history does beg the question - is Hanson's call to cancel the QLD Olympics bid actually part of a bigger scheme to keep international people out of Australia at all costs?!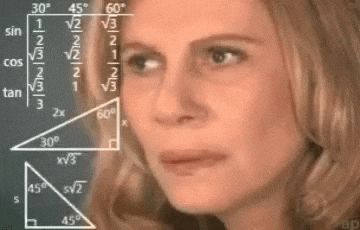 It's certainly a confusing time for all… we'll let you know how to process this information, as soon as we figure it out ourselves!