Diplo To Perform On Top Of Sydney Harbour Bridge
Diplo's beats are set to drop even harder when he plays them from atop the Sydney Harbour Bridge today
You might know him from his collabs with Beyonce, Ariena Grande, Santigold, MØ and Justin Bieber – you know the one, 'Where are you now that I need you?" and the answer is - on a huge bridge.
BridgeClimb has been taking visitors from around the world up the Sydney Harbour Bridge since 1998. Over four million local and international visitors have climbed the bridge in the last 21 years. This will be the first time some decks and sick beats grace the summit too!
Diplo is currently one of the world's most in-demand producers but is taking a moment off laying award winning tracks to DJ on top of Australia's iconic bridge. In a world first cultural moment, the set to be performed today at 5.00pm (Thursday 26 September) will celebrate BridgeClimb's 21st birthday and the artist's return to Australia for Listen Out festival.
Diplo has a long running relationship with Australia, including co-founding Heaps Decent with Sydney DJs Nina Agzarian and Andrew Levins – a dynamic arts organisation working with young people and emerging artists from diverse communities, providing role models and a means by which they can tell their story in their own way. It makes perfect sense he should be the muso to challenge the daunting task.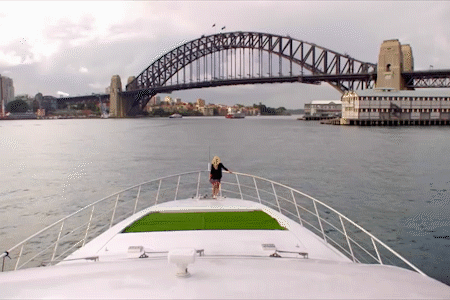 He continues to tour the world over, including Australia on the Listen Out festival through September and October.
The specifics of the show are yet to be fully understood, such as how far the music will reach, or where the speakers will be placed but it's probably safe to assume Diplo has packed his wind cancelling headphones.
What we do know, is that the mosh area is general admission and to be solely attended by birds flapping their wings to some dancehall hip hop trap.
You can catch the footage from this world first on The Project tonight from 6.30 pm.