Lifeline Asks People Not To Leave Clothes Out In The Weather As Charity Bins Overflow
Lifeline is giving us a tip: If the charity bin looks like a tip, don't leave your unwanted goods.
Some charity bin sites are resembling dumps after being overloaded with unwanted items in what they believe is the post- Christmas clean out, according to the ABC.
We have our suspicions that Marie Kondo, the brain behind popular new Netflix show 'Tidying up' could also be partly to blame. People are cleansing themselves of junk and it is not sparking any joy for Lifeline.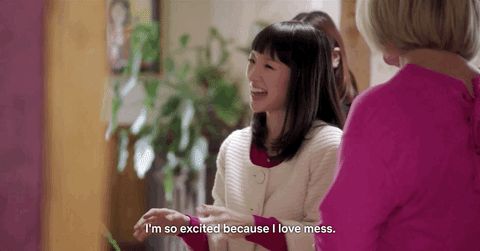 Normally charities would be thrilled to have so many donations, the problem is that items that have been left on the ground in the weather and rain can't be used and are classified as contaminated.
Jamie Mackay from Lifeline said the littering, which can be classified as illegal dumping, is heartbreaking.
"We collect these donations to raise funds for a great cause to help save lives," he told the ABC.
The National Association of Charitable Recycling Organisations (NACRO) estimates 60,000 tonnes of unwanted items, including broken appliances, soiled mattresses, and even dirty nappies are sent to landfill each year. Let's hope someone didn't hold up a nappy to see if it "sparks joy".
Mr. Mackay said it imposes a massive financial burden on all charities.
"It can be as much as 30 percent of our costs for the busy times of the year," he said.
Sending unusable donations to landfill is being paid for by Australian charities and currently costing them $13 million a year.
Lifeline estimates that currently, 50% of its stores across Australia have stopped accepting donations, due to storage restrictions.
Before you go and tip that bag full of old clothes back into your cupboard, there still might be a way to get rid of those cut-off jeans you've had since 2001.
Check out our list below on how you can donate your unwanted goods:
Lifeline still has distribution centres in each state with the capacity to continue taking donations during this busy time of year.
Check with staff inside the store (not just the bin outside) if the shop has the storage capacity to accept donations over the counter
Put them on websites like Facebook Marketplace or Gumtree and label them as free. Obviously, this one comes with the hassle of people possibly messaging you and visiting your house, but it's an option if neither of these is a problem for you.
Wait a couple months. Once this post-Xmas extreme purge has cooled down, charities will have the capacity to take your items once again.
Take a trip to your local waste facility and pay a small gate fee (some are also free, depending on the council) to dump items that are not appropriate to be donated.
Lastly, be creative! Clothes can become old rags, pet bedding or even be made into grocery bags. The bonus is getting creative definitely sparks joy!