This Ultimate Wedding Trend Is Not What You Would Expect
Florists and lumberjack grooms rejoice, never has there been a more interesting cross-over hit.
Grooms have complained, and the forests have listened: why do brides and flower girls get to have all the flower-fun at weddings?
The latest wedding trend sweeping social media is beard-bouquets, and it's making grooms more scented and allergy-inducing than ever.
Step 1: Grow beard
Step 2: Smoosh flowers into it
Step 3: Sneeze and regret nothing (provided you've definitely just married the right person).
PLEASE NOTE: DO NOT WATER BEARD UNLESS YOU ARE PREPARED TO HOUSE ANNUALS IN THERE.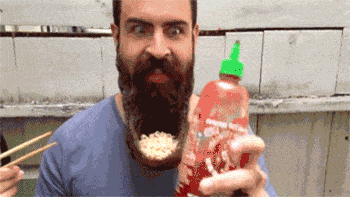 Frankly, I think this is a hit of an idea. But why stop there?
Surely an Easter Egg hunt can truly become a challenge if you think there's something hidden in that face over there. And nothing screams Christmas like a tiny nativity scene, complete with a shooting star across the mustache, whilst the bearded subject screams "CHRISTMAS!"
Remember, if you do keep it to weddings and there is a bride involved, just make sure she doesn't get confused between a bouquet and a beard-bouquet and tear half of her beloved's face off.