Mystery Over Myanmar Ghost Ship Which Reappeared After 9 Years Solved
The ship's coordinates were last recorded in 2009.
Authorities in Myanmar believe they have solved the mystery of a 'ghost ship' discovered off their coast with no crew and no cargo on board.
Sam Ratulangi PB1600, a 26-tonne container ship was found by fisherman about 11 kilometres off the coast of Yangon last week.
Myanmar's Navy, who boarded the vessel, uploaded spooky photos from inside the deserted ship, which has mostly decayed with rust.
Now, days after it was first found, authorities believe they have solved the mystery.
Authorities now believe the tugboat "Independence" -- with its 13 crew -- was towing the 17-year-old vessel but was caught in bad weather.
"It was the view that the ship could have been towed by another ship after two cables … were found at its head," a Facebook post from the Navy said.
"The cables attached to the ship broke, and the ship was floating along with the tide and it was difficult to continue its journey," the post said.
It's understood the Indonesian vessel was being towed towards Bangladesh for scraps.
But wait, there's more.
According to Marine Traffic the ship's coordinates were last recorded in 2009 off the coast of Taiwan.
So, mystery solved? Officially, yes.
But come on, it took NINE years for the ship to reappear? Surely, there's only one real explanation...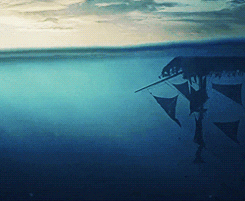 Pirates of the Caribbean 6 anyone?
Featured Image: Myanmar Navy