Blood, Sweat And Beers: Matt Burke's Greatest Wallabies World Cup XV
The Rugby World Cup starts this weekend, with all Wallabies games on Network 10, beginning with the clash against Fiji on Saturday afternoon.
So we thought we'd look back at the greatest XV to take the field for the Wallabies at the Rugby World Cup.
To be clear, this is not a list of the greatest Wallabies players since 1987, when the first RWC was held. These are the 15 men who excelled AT the Cup -- whether in Australia's two World Cup victories in 1991 and 1999, or in less successful campaigns.
We might as well tell you from the outset that Burkey doesn't give himself a start. Whether that's because he didn't make the cut or he's far too modest to include himself, we'll leave up to you to decide!
Over to you, Burkey.
MATT BURKE'S GREATEST WALLABIES WORLD CUP XV... in Burkey's own words
THE FORWARDS
1. Richard Harry (RWC 1999)
One third of a formidable front row combination, Harry was outside Bernie Larkham in the latter stages of the the 1999 World Cup semi against South Africa when he yelled out "Smith's", as in "Smith's chips", which was our call for a chip-and-chase. Bernie wisely refrained from taking the advice of a loose head prop and calmly slotted a crucial field goal.
2. Phil Kearns (RWCs 1991, 1995, 1999)
Kearnsy was the nicest bloke in the world off the field, and just ruthless on it. A World Cup winner in 1991, he was part of the squad in '99 but got injured. We used to have a saying: "keep 'em nude", which meant trying to keep an opponent scoreless. After Kearnsy got inured in '99, he sent the team a support video from back home and... yeah... let's just say he kept it nude.
3. Andrew Blades (RWC 1999)
He played 32 Tests and never scored a try. But he held up the scrum like a pro and, it pains me to say, you need blokes like him. It's pretty funny. I had to find an action shot of him once. Forget it, no chance. There wasn't a single one ever taken! Bladesy was integral in Owen Finegan's try in the 1999 World Cup final. Not very subtly, he held back a Frenchman from making a tackle after a line-out. Watch and you'll see it eventually. It's near the bottom of the picture. You'd never get away with that today!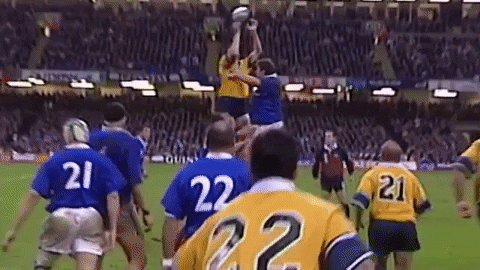 4. David Giffin (RWCs 1999, 2003)
He basically ran the show, as in the line-outs, without ever getting the credit. A 1999 World Cup winner, Giffin was a smart cookie. As an old Wallabies prop once told me "Ealesy told us which way to run, Giffin ran the show". That's not an insult to Ealesy. It just shows how smart Giffin was as a player.
5. John Eales (RWCs 1991, 1995, 1999)
We all know he was nicknamed "Nobody", as in "nobody's perfect". And while he was undoubtedly a great forward, what resonates with me is his leadership. In that 1999 World Cup final, the French were playing dirty. There was squirrel-gripping, eye-gouging, you name it. And Ealesy approached the ref and said "I'll walk if this keeps up", as in, he'll lead the team off. It was a bluff, of course, but it was a good one because they stopped. I should also mention that Ealesy was the second-best goal kicker in the team.
6. Willie Ofahengaue (RWCs 1991, 1995)
The silent assassin. He didn't say much but he absolutely belted blokes. Just a phenomenal bloke to play with. I'd look across and go "I'm OK today, I've got blokes around me like Willie who can sort it out".
7. George Smith (RWCs 2003, 2007)
Is he still playing today? Smith was both ageless and peerless. Watching him play, you always asked yourself "how on earth could he be replaced?" Then David Pocock and Michael Hooper came along. And they were, and are, excellent, but what they had Smith had combined. Pocock is incredible over the ball, while Hooper has more of a running game. George had both. He's one of the all-time greats, and it was always a good game for him if he made it without losing any dreads! The Saffers used to pull them like crazy.
8. Toutai Kefu (RWC 1999)
He ran with the ball like a back, and the amount of work he got through was ridiculous. He just kept popping up everywhere on the field. But there's one place you knew he'd always be -- on the back seat of the team bus. In classic forward style, he owned the back seat. You wouldn't dare try to take it.
THE BACKS
9. Nick Farr-Jones (RWCs 1987, 1991)
He was professional before his time -- and while 1999 World Cup-winning halfback George Gregan owns the award for best sledge ever for his "four more years" sledge to the beaten All Blacks in the 2003 semi-final -- Farr-Jones gets the tick because of his groundbreaking technique for overcoming jetlag. Basically he'd get on the squirt the night he arrived, then have a really good sleep. After that he was good to go. Genius. Oh, and he led the Wallabies to victory in 1991.
HEAR MORE: Listen to Matt's podcast with Nick Farr-Jones here
10. Stephen Larkham (RWCs 1999, 2003, 2007)
It's tough to Leave Noddy Lynagh out here. His calling of the play and scoring in the desperate last few minutes in the quarter final against Ireland at Lansdowne Road in 1991 was an all-time moment, and there is no 1991 World Cup without it. But I've giving this one to Bernie Larkham because of his incredible field goal from 48 metres against South Africa in extra-time in the '99 semi-final, which was the first international field goal he ever slotted, and all the more remarkable as he could barely stand on one leg due to a medal ligament injury. Of course, I kicked eight penalty goals that day but nobody remembers that!
11. David Campese (RWCs 1987, 1991, 1995)
Just a freak. The greatest Wallaby of them all, even if he couldn't tackle!
HEAR MORE: Listen to Matt's podcast with Campo here.
READ MORE: Rugby Legend David Campese Read The Same Poem Before Every Game
12. Tim Horan (RWCs 1991, 1995, 1999)
You could look at so many highlights, so many big moments, like the way he worked with Campo against the All Blacks in the semi-final in 1991. But you just need to know this: Horan was virtually on his deathbed with gastro before we played South Africa in the 1999 semi-final and came back and won man-of-the-match. Which he reminds us about all the time!
13. Jason Little (RWCs 1991, 1995, 1999)
He was the other half of our umbilical brothers in the centres. Went to school with Horan, played for the Wallabies with Horan and just like Horan, was a dual World Cup winner in both 1991 and 1999. Jason was smooth on the field and off it too. Except for one thing: he couldn't kick. At all. Then one time, he torpedoed it 60 metres downtown. I'll never forget it. The only man more surprised than me was him.
14. Joe Roff (RWCs 1995, 1999, 2003)
He just had an unbelievable sense of what to do on the field. He'd always turn up in the right place at the right time... and the same is true for when he went out after the game! Roffy was definitely one of the greatest celebrators. And after the wining the Cup in 1999, don't worry, he made sure he didn't wash off the blood until all the photographers had done their work.
15. Marty Roebuck (RWC 1991)
A World Cup winner in 1991, my teammate at Sydney club Eastwood is the guy who taught me the nuances of fullback positional play. Not the biggest bloke in the world, but you could bet your house on him making that crucial tackle. One or two other fullbacks come to mind but I'll stick with Marty!
Network 10 is the FTA broadcasting partner for the Rugby World Cup 2019 in Japan, airing from Friday 20 September.
We'll be showing all Wallabies matches, starting with their opener against Fiji this Saturday afternoon, September 21.