An Emotional Tribute To Tim Cahill, The Greatest Socceroo Of Them All
As Tim Cahill prepares for his Socceroos farewell against Lebanon this evening, this is why he'll be missed.
What makes a sporting legend?
Is it the ability to perform the most obscenely spectacular feats of athleticism?
If that's your test, then Tim Cahill passes easily. His famous goal at the 2014 FIFA World Cup, seconds after the Netherlands had scored against the Socceroos, is just one example.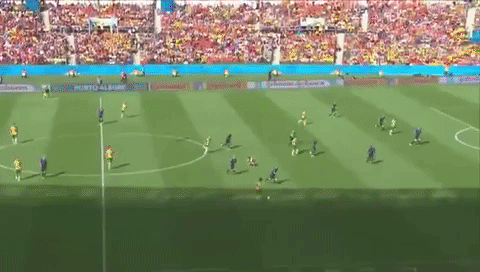 Is it longevity? The ability to do it year after year after year? Is that what elevates a champion to legendary status?
If that's the case, then look no further than Tim Cahill's birth certificate, which shows that he's only a couple of weeks shy of 39. Or his football CV, which reveals he's now in his 21st year of elite football for country or club.
Is it timing? The ability to perform when it counts most?
By that standard, Tim Cahill is on the top tier of sportspeople ever to play any sport for any country.
So many times, Timmy has risen above the pack both literally and figuratively. He scored our first ever goal at the FIFA World Cup finals in 2006. It was the result of a goalmouth scrap and it could have been anyone's big toe poking it through -- yet, of course, it was his.
The second goal just moments later? Sublime. With precious little room to work with at the edge of the box, his strike was perfect.
Again and again over the years, Cahill has delivered for Australia. It just kept happening, right when it mattered most, and often spectacularly.
And it has just kept happening. Down 1-0 against Syria, we had to score twice. So we did.
Or more precisely, Timmy did, both times with that lethal head of his. He was 37-years-old at the time. On balance, was it a good or bad thing for Australia that we relied on him at that age?
The official answer for any true fan was: who cares.
Tim Cahill is the man who could do anything. Eight seconds into this Major League Soccer game in America, he was already on the scoresheet. Eight seconds. Heck of a strike, too.
When he finally came to the A-League, his first goal was this effort. Incredible.
Cahill did it over time, he did it when it mattered and he did it in a variety of modes. His goals could be artful, audacious or just plain tradesmanlike.
But do you know what makes this man really great?
In any sport, the true greats find themselves interwoven into a broader narrative. Don Bradman and Phar Lap helped Australia negotiate the Great Depression. They gave people hope -- a reliable source of excitement and excellence in a time of despair.
Cathy Freeman only won one Olympic gold medal, but she won it with such poise under such pressure as an indigenous figurehead at the Syndey 200 Olympic Games that she too became something bigger than just a sportsperson.
Tim Cahill's career is interwoven into the rise of the Socceroos. He went to four World Cups with his national team and scored goals at three of them. He helped us win our first Asian Cup.
Cahill is -- and will always be -- the symbol of the era in which Australia emerged from a far-flung Oceanic power to something bigger on the world stage. We're not a great football power yet -- far from it. But we'd be nowhere without Tim Cahill. That's not overstating things. That really is how significant his contribution has been.
READ MORE: A Tribute To Tim Cahill From The Tormented Corner Flags Of The World
For those not in the know, Australian football is this week tearing itself apart (as usual) with backstabbing and nasty personal games as candidates jockey for positions on the board of the game's governing body, the FFA.
The game here is still deeply riven by factions and infighting. Amid all this, the one unifying factor we've for the last 20 years is Tim Cahill. They say no man is bigger than the game, but he's at least the size of it.
There's one more important aspect in the make-up of a sporting legend: who are you?
Tim Cahill is a good bloke. Some don't like him. Some say he's mercenary. They point at minor indiscretions like one time he celebrated a goal by making the sign of a sponsor's logo rather than with his trademark corner flag punch.
That moment was unquestionably a little crass, but if that's the worst charge against a bloke, then you''re looking pretty hard for reasons to hate him.
Tim Cahill is inspirational. He came from not much and gave us plenty. He was never the one most likely, yet by the end of his career, he was the always the one we turned to.
Isn't that the sort of Australian story we'd all like to leave behind?
You can all the action of the Socceroos and Lebanon Live and Free on 10 Boss. Tuesday night from 7:30pm AEDT.