Australia, Please Welcome Your 'Next-Generation' Government
Drum roll please...
Newly elected Prime Minister Scott Morrison has spent the weekend looking to swiftly bring in his new-look cabinet and move away from the political headache that quite literally tore the government apart last week.
The unveiling of his new front-bench on Sunday came just hours after Julie Bishop, who also ran for the top job in #Libspill3, was resigning from her position as Foreign Minister, ending a decade's run in cabinet.
While much of the Coalition front bench will remain the same when Parliament resumes next month, Morrison's self-dubbed "next-generation" government will also feature a slate of changes to its portfolios.
It's too early to tell how well this new cabinet will handle their new -- or in some cases old jobs, but Morrison has vowed it will restore some much needed stability to the government and "healing" after what he described as "most recent events" -- which is the polite way of phrasing what we've all been thinking of auspol this week.
So before we enter our first week in what feels like a lifetime without a leadership spill let's break down some of the key changes and shock moves in Morrison's new team.
backbench bishop
Julie Bishop announced her resignation from the Foreign Affairs portfolio and retreat to the backbench early on Sunday, making the announcement of her replacement one of the most anticipated questions for Morrison.
Bishop, who has been a pivotal member for the Liberal Party for decades said she would continue serving the people of Western Australia, but had not yet made a decision on whether she would re-contest her seat at the next election.
Her resignation which came on the back of her failed bid for leadership against Peter Dutton and Scott Morrison, set off bipartisan tributes for her role in representing and negotiating on behalf of Australia to the rest of the world.
Former Prime Minister Malcolm Turnbull, whom Bishop stayed loyal to until the very end of his term - described her as Australia's finest Foreign Minister.
"She has been and remains an inspiring role model for women here and around the world," Turnbull said on Sunday.
This tweet is unavailable or no longer exists.
Labor's Foreign Affairs Spokeswoman Penny Wong paid said she was a trailblazer and had dedicated her life to Australia with a tireless work ethic and exhausting travel schedule.
"While Labor has at times been critical of the foreign policy directions ... Ms Bishop's commitment to standing up for Australia both here and abroad has never been in question," Wong said.
This tweet is unavailable or no longer exists.
Morrison himself on Sunday said he would have welcomed Bishop back into the Ministry and noted her "extraordinary contribution to Australian public life."
He admitted he had consulted with and was urged by Bishop to hand her outgoing portfolio to Minister for Defense Marise Payne.
Payne was considered the appropriate person for the job because of her experience in the defense portfolio and her engagements with Australia's key allies.
Morrison also noted she had participated with Bishop in the Two-Plus-Two ministers meetings.
Payne has spent three years in the defense portfolio to which she was the first female appointee and oversaw a range of developments including the defense white paper and a deal with French firm DCNS to build a fleet of new submarines for the Australian defense force.
This tweet is unavailable or no longer exists.
dutt-on the front bench
Guess who's back? Back again?
Yes, that's right. Peter Dutton will make his return to the front bench less than a week after he resigned and just a few days after losing not one, but two leadership spills -- which he called.
But while Morrison seems eager to maintain some level of continuity in the government's relatively new Home Affairs portfolio, Dutton hasn't been able to come completely out of the naughty (backbench) corner after all.
Dutton will still be Minister of Home Affairs, however his once all-powerful portfolio has now been stripped of the Immigration and Citizenship portfolio, which will instead be handed to new-kid on the Immigration block David Coleman.
Coleman until now served as the Assistant Finance Minister to Mathias Cormann who, after turning his back on Turnbull and resigning from his position, will return in his prior portfolios of Finance and leader of the party in the Senate.
"Immigration, of course, forms part of national security policy, but it also has always played an important role in economic and social policy," Morrison said in explaining the splitting up of the super-portfolio.
"We need a strong focus on our immigration program so it brings the skills and it brings the harmony and the unity that we want from that program. We are the most successful immigration country on earth. And we have worked hard to achieve that record."
Barnaby's back
Ok, we used our "guess who's back" line too soon.
Oh yes, it's the former Deputy Prime Minister and ex-Nationals Leader himself, Barnaby Joyce.
And ok while he isn't technically on the front bench, he DID get a special mention in Morrison's press conference, so he's getting one here too.
A little side note: his mention started with "I'll also address the issue of Barnaby Joyce" and boy we really thought Turnbull would be the last Australian PM to utter that sentence ever again.
But in all honesty, Joyce is actually being tasked as a Special Envoy in the extremely important role of Drought Assistance and Recovery, which Morrison vowed was a key priority for him and the new government.
"These roles, I think, provide an opportunity for those who have served at senior levels in the past can continue to make a very constructive contribution," Morrison said.
Elephant in the room
Morrison also tried addressing the elephant in the room, without really addressing it, but we're keen to address it, so here it goes... *whispers loudly* ENERGY.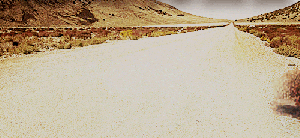 "The Minister for getting electricity prices down, also to be known as the Minister for Energy, will be Angus Taylor," Morrison quipped in his press conference.
Taylor who until his resignation last week was the Minister for Law Enforcement and Cybersecurity has "incredible background in solving complex and difficult problems," Morrison said - which could be alluding to the energy portfolio being a right ol' mess for the government and the fact that Turnbull got knocked off the top job because of his energy emissions targets proposal, or it could not ... we'll just leave it here.
He will also likely be 'mentored' by Josh Frydenburg the outgoing minister for the portfolio who on Friday was overwhelmingly elected to the position of party deputy and is now the government's new Treasurer.
Taylor, who has taken a stance on several occasions against wind farming has also reportedly been vocal to the now former-PM Turnbull about the need to focus on reducing energy prices first before focusing on emissions targets.
This tweet is unavailable or no longer exists.
The portfolio itself has also had a shake up. Energy and Environment are now split, with a new face from Western Australia, Melissa Price taking on the latter.
Price has served as the Assistant Minister for the Environment since 2017 after starting her career as a lawyer during which time she worked in a range of roles including with iron ore company Crosslands Resources.
Abbott out
A final special mention must go to old mate Tony Abbott.
Speculation was rife that he would be promoted back to a cabinet position after spending the last two years on the backbench following his own leadership spill loss to Turnbull in 2015.
When asked about whether Abbott was considered for a position, Morrison looked to distance himself from the question but added that, like Joyce, Abbott could play a role as an Envoy.
"But I fully respect his right to look at these issues as he sees fit," Morrison added.
Morrison is confident in his new team and says they can deliver the economy, safety and togetherness Australia needs.