'Gossip Girl' Revival: These Are The Most Iconic Outfits From The OG Series
With their reworked school uniforms and designer wedding gowns, 'Gossip Girl' was THE source of fashion inspo for an entire generation.
It's time to bring back the knee-high socks and flashy headbands, 'cos like many of our fave shows from the early noughties, 'Gossip Girl' is officially set to return to our screens.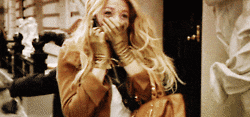 READ MORE: Stop Everything Because 'Gossip Girl' Is Officially Getting A Reboot
While it's likely it won't feature any of the OG cast members, the rebooted series will feature a "new generation of New York private school teens [who] are introduced to the social surveillance of Gossip Girl."
According to Deadline, "The prestige series will address just how much social media—and the landscape of New York itself—has changed in the intervening years."
While we're sad we likely won't see the return of the original crew -- Serena Van Der Woodsen (Blake Lively), Blair Waldorf (Leighton Meester), Dan Humphrey (Penn Badgley), Nate Archibald (Chase Crawford) and Chuck Bass (Ed Westwick) -- there's no denying that each character's signature style was hugely influential on our malleable teenage minds.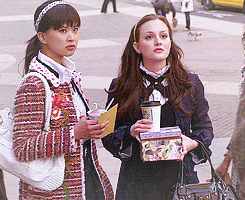 In fact, the series became so en vogue from a fashion perspective that designers were lining up to get their pieces on the series, with costume designer Eric Daman telling Fashionista, "Blair never repeated a headband in six seasons, and Serena never wore the same pair of shoes or carried the same bag."
So until we have a new batch of rich Manhatten teens with impeccable fashion sense to fawn over, we'll be over here reflecting on the OG characters' most iconic ~lewks~.
READ MORE: Netflix's Blunt Yet Accurate Description Of 'Gossip Girl' Has Everyone Loling
Blair Waldorf: Preppy Princess
Blair was always HUGE on luxury pieces that were meticulously tailored, with her signature style being very classic, preppy, and polished. Seeing as her mother Eleanor Waldorf was a designer, it's no wonder she constantly looked as if she was walking off the set of 'Breakfast At Tiffany's'.
Serena Van Der Woodsen: Bohemian Babe
In contrast to her BFF Blair, Serena's style was far more bohemian and eclectic, as if she'd thrown on a mix of designer and op-shop pieces to form an effortlessly stylish outfit in what made for the world's most enviable wardrobe.
Jenny Humphrey: Good Girl To Goth Queen
Played by rocker Taylor Momsen, Jenny had the most interesting style evolution of all the 'Gossip Girl' clan. Kicking off the series as a baby-faced minion of Blair, she soon developed a far edgier, grunge aesthetic -- not dissimilar to Momsen's IRL style -- to match her increasingly jaded attitude throughout the seasons.
Chuck Bass: Dapper Bad Boy
With his crisp, expensive suits, Chuck was the perfect match to Blair's classic style and pulled off the whole "rich Upper East Side playboy" look immaculately.
Nate Archibald: Casual Cool
While Nate was used to the high life on the Upper East Side after his dad lost their family fortune and went to jail, Nate gathered a bit of perspective on life -- and his dress sense reflects this. Whether he was rocking a stylish tux or chilling in casual wear, Nate always looked HOT.
Featured image: Getty