Sabrina The Teenage Witch's Makeup Comes At A Very Grownup Price
Teenage witch Sabrina Spellman of Netflix's hit 'Chilling Adventures of Sabrina' isn't like her 16-year-old peers in many ways.
For a start, she's a witch. She lives with her witch aunts in a very spooky town and regularly does battle with demons and the Dark Lord himself.
There's also something else that sets Miss Spellman apart from other teens -- her beauty routine. It's actually pretty expensive -- and not something that many of her pals at Baxter High could afford.
The show's head makeup artist Candice Stafford-Bridge let the (black) cat out of the bag when she told Allure that Sabrina's go-to lip colour is "the world's most expensive lipstick."
"It just happens to look amazing on her," she said. We can't argue with that.
READ MORE: Reese Witherspoon's Surprising Bargain Beauty Hack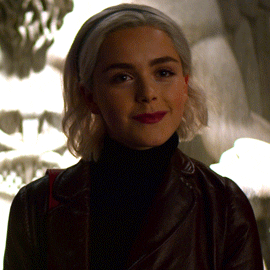 The deep berry shade is Christian Louboutin Velvet Matte Lip Colour in Very Prive which costs a hefty $133.55.
That's a lot of saved pocket money. Heck -- we're not even sure most adults could justify dropping that much cash on a lippie.
Sabrina -- played by Kiernan Shipka -- wore the moody hue for her Dark Baptism in the series premiere and it worked so well that Stafford-Bridge decided to keep it on rotation for the rest of the season.
Despite the exxy lippie, Stafford-Bridge maintains that Brina's beauty regimen is based on that of a regular old mortal teenager. "She can raise the dead, but I wanted to be true to a 16-year-old high school girl and make her makeup believable," she said.
For her 'mortal days' at high school, the young heroine opts for lipsticks from Bite Beauty and Ilia which -- at $40 and $43 respectively -- are a little easier on the wallet.
Stafford-Bridge uses a sweep of M.A.C. Powder Blush -- which costs less than 30 bucks -- in a lavender shade on Spellman/Shipka's fair skin.
READ MORE: A Game Of Thrones-Inspired Makeup Range Is Coming
Shipka's IRL beauty look is a little more low-key than her on-screen persona, but still a bit exxy.
She told Into The Gloss in 2017 that she barely wears any makeup and with skin like hers, we kinda believe it.
For lips and cheeks, she likes to dab on a deep berry-coloured Glossier stain in Jam! which is rather affordable at $25 but unfortunately doesn't ship to Aus. Boo to that!
Luckily, Aussies can get their hands on her preferred concealer by Clé de Peau, though it comes with a $103 price tag.
Feature image: Instagram/@sabrinanetflix, Nordstrom.