A Game Of Thrones-Inspired Makeup Range Is Coming -- And We Know Where You Can Get It
Forget winter -- beauty brand Urban Decay's makeup range inspired by the TV series Game of Thrones is coming.
The brand teased the range in two Instagram posts on Saturday, one showing a model with Khaleesi-esque braids and a dramatic icy blue eye we reckon the Mother of Dragons herself would approve of.
The other post, a short video, was far more fiery, featuring a model with bronzed lids and lips. A little bit Cersei if we do say so ourselves.
The HBO show's official hashtag, #ForTheThrone, and the words "WE ARE READY" were the only other details Urban Decay shared.
READ MORE: New Photos From Game Of Thrones' Final Season Released
The brand told Bustle the collection was inspired by Urban Decay's "favourite places in Westeros and the strong women of the Seven Kingdoms."
"We are excited for this partnership and look forward to sharing more details in the coming months," they said.
Thankfully, you don't have to be the Three-Eyed Raven to find out more deets -- we've got 'em right here.
A MECCA spokesperson confirmed to 10 daily that the range is coming to Aussie shores -- and soon!
From what we've seen so far it's going to be fire -- and ice, of course.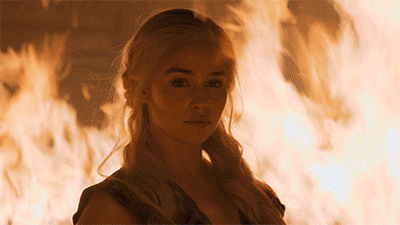 READ MORE: The First Sneak Peek Of 'Game Of Thrones' Season 8 Is Here
Urban Decay is by no means the first -- or the last -- brand to team up with Game of Thrones. In July 2018 Adidas teased their as-yet-unreleased range of GoT-inspired Ultra Boost sneakers.
The six new kicks riffed off some of the show's iconic houses -- Stark, Targaryen and Lannister -- as well as the Night's Watch and White Walkers.
Stark 'wolves' can sport a grey and black design with a tab on the heel and the trademark phrase, "Winter Is Coming."
This tweet is unavailable or no longer exists.
Targaryans were treated to two designs, one with flame-red stripes to represent the House's dragon emblem ...
This tweet is unavailable or no longer exists.
... and the other as white as the Mother of Dragon's own hair.
The six-episode eighth and final season will stream directly from the US on Monday, April 15 at exactly 11am AEDT on Foxtel.
Feature image: Instagram/@gameofthrones, Instagram/@urbandecaycosmetics.