Diane Keaton Is The Instagram Fashion Blogger We Need But Do Not Deserve
'The First Wives Club' icon Diane Keaton has just discovered the 'outfit of the day' selfie on Instagram and sorry but all other fashion bloggers are cancelled.
The 73-year-old Hollywood legend began treating us to #OOTD-style pics on her Insta, @Diane_Keaton, back in December last year but it looks like 2019 is her year to live her best fashion life.
Keaton has since posed for a handful of mirror selfies rocking her trademark kooky-goth-meets-Victoria-era-dandy style -- and we simply cannot get enough.
Just a heads up -- the actor's captions are in ALL CAPS but hey, she's Diane Freakin' Keaton and she can do what she wants.
READ MORE: Iris Apfel Signs Modelling Contract At The Age Of 97
Whether she's layering hardcore silver cross necklaces or throwing back to her iconic Annie Hall headwear, Keaton is the Insta influencer we need but do not deserve.
Keaton even shook things up by swapping out her go-to black hat for a slogan beanie, with which we cannot disagree. Fashion boss, anyone?
The Oscar-winner called out for her followers to help her pick an outfit but tbh who can really choose? They're all fabulous and quintessentially Keaton.
Keaton has even compared herself to King Karl, and rightly so.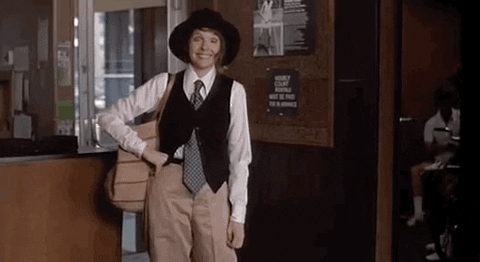 So influential is she that others are totally stealing her lewk. Who can blame them? Also -- #HalloweenOutfitInspo, anyone?
READ MORE: Beyoncé's Makeup Artist Says We've Been Wearing Foundation Wrong This Whole Time
Keaton was most recently spotted all suited up and sitting front row at US designer Rodarte's fall-winter 2019 show in California on February 5 -- just LOOK at that OTT top hat.
Pharrell Williams, eat your heart out.
Keep those #OOTD snaps a-comin', Diane.
Feature image: Instagram/@Diane_Keaton.