Georgia Love Spills On Her Dress Drama Before Meeting Anna Wintour
The Network 10 journalist lived everyone's nightmare when she arrived at The Australian Open wearing the same outfit as not one but half a dozen other women!
That's right -- the striped shirt-dress Love chose for Thursday's event was a dead ringer for the Australian Open female staffers' own outfit.
Not only that, the ex-Bachelorette discovered she was twinning with staff before one of the biggest interviews of her career -- with none other than fashion icon and Vogue editor-in-chief Anna Wintour.
Stressful much?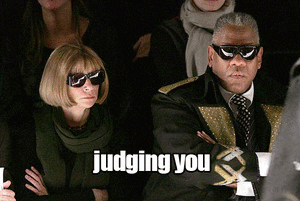 READ MORE: Beyoncé Has Been Given Full Control Over Vogue September Issue Cover
READ MORE: Frock This For A Joke! Women Have It Easier Than Men With Summer Officewear
"It did not help my nerves!" she told 10 daily.
Love had arrived at the venue in plenty of time but soon noticed a woman wearing an uncannily similar dress.
As soon as I walked in I saw one girl [in the dress] and I made a comment to the cameraman that she obviously had great style and I was on trend.
But then another woman walked out. And another. At this point, Love realised they were all wearing name tags and it finally hit her -- she was dressed just like the staff.
"This is something that of course would happen to me so I just burst out laughing! And asked for a photo, obviously," she told 10 daily.
The dresses weren't exactly the same -- Love's was from Shieke while the staffers wore Country Road.
Being the pro journo she is, Love kept calm and carried on with the task at hand despite the dress drama and her nerves.
"It was actually huge for me and was easily the most nervous I'd ever been on the job," she said of her chat with Wintour.
The Vogue icon gave Love a teaser ahead of her keynote address at the Australian Open Inspiration Series, revealing that she was "inspired" by women and young people of colour.
READ MORE: Anna Wintour Just Gave An Almighty Serve To The PM And Margaret Court
The 69-year-old went on to admit that she's "not as familiar with Australian designers as I should be so I am looking forward to changing that."
Wintour was, according to Love, "amazing" and was very generous with her time with the media.
"I also really loved seeing her get emotional talking about her family. She's got such a harsh reputation as a tyrant, it was lovely seeing and hearing that softer side. I think no matter what you think of fashion, Dame Anna is a truly inspirational and aspirational woman," she told 10 daily.
"Oh and she touched my arm at one point," Love said. "Dead."
We'd be the same, girl.
Feature image: Getty.