Bhad Bhabie Just Snagged A Major Makeup Deal
Danielle Bregoli is set to 'cash' a tonne of well ... cash 'outside' after signing onto endorse CopyCat Beauty.
Just weeks after showing off her new set of porcelain veneers -- thought to have cost $55,000 -- teen rap star on the rise Bhad Bhabie has inked an endorsement deal worth a cool million bucks or so.
The deal is with US makeup brand CopyCat Beauty which sells uncannily accurate -- and very cheap -- duplicates of exxy brands like Marc Jacobs, M.A.C and Anastasia Beverly Hills.
Their 'version' of Urban Decay's Naked Heat eyeshadow palette -- which they call the Fogo eyeshadow palette -- looks pretty similar but at $8.99 costs about $50 less.
READ MORE: Bhad Bhabie's Concert Proves All Her Haters Wrong
"Shop smarter not harder itty bitty lil bich" the star herself wrote on her Insta. A mood, no?
Born Danielle Bregoli, the Florida native rose to fame after an appearance on Dr. Phil in 2016 when she coined her iconic catchphrase "cash me outside, how bout dat?"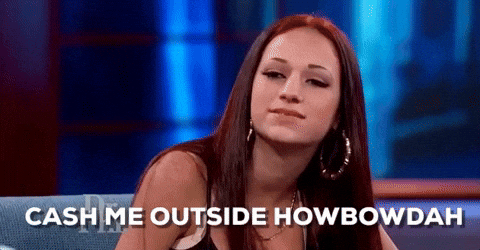 She's since released a handful of singles -- several of which landed in the Billboard 100 -- including most recently "Babyface Savage," and made it down under on a tour.
Now she's set to pocket a hefty cheque for lending her face -- and feisty 'tude -- to a beauty brand and all before her sweet sixteenth birthday.
READ MORE: The 'Cash Me Outside' Girl Got Into A Fight With Iggy Azalea
Not too bhad for someone who got their start on a TV show segment called 'I Want To Give Up My Car-Stealing, Knife-Wielding, Twerking 13-Year-Old Daughter Who Tried To Frame Me For A Crime,' right?
Feature image: CopyCat Beauty, Instagram/@bhadbhabie.