The 5 Different Nail Shapes You Should Know About
Whether you're hitting up the salon or DIY-ing at home, these are the nail shapes you need to know about for the best mani ever.
Square, oval and something called 'squoval' -- they're just a few of the different nail shapes out there, but what do they actually look like?
Celebrity manicurist Bernadette Leva lent us a helping hand in spotting an almond from a round-shaped nail.
Square
"This nail shape is true to its name with a flat top and straight, sharp corners," Leva told 10 daily.
"Square nails are popular for those with short nails or long, narrow nail beds."
READ MORE: How To Remove A Gel Manicure At Home Without Destroying Your Nails
Squoval
"This is basically a square nail with the corners rounded off slightly," said Leva.
"The perfect choice for clients who love a square nail but tend to get the edges caught because they're sharp."
Round
"Round nails start with straight sides and then curve at the edge to follow the natural shape of the fingertip," she said.
Oval
"Oval nails are tapered on the sides in addition to the tips," Leva explained.
"This shape tends to make fingers look more slender because of the illusion the nail creates."
Almond
"Similar to the shape of an actual almond, nails are filed along the sides which tapers into a round peak," Leva told 10 daily.
A shape that suits you
If you're having trouble putting your finger on the best nail shape for you -- understandable as they're all so lush -- here are a few things to help you decide.
If you're after a natural look the shape of your nail should mirror the shape of your cuticle, according to Leva.
Got short fingers? "If you want to elongate your hands go for an oval or almond nail as that will give the illusion of longer, slender fingers," Leva said.
Keep your job and hobbies in mind as well -- a beauty therapist or a netballer might like to opt for a shorter square or squoval shape to avoid snagging or scratching themselves or others.
READ MORE: A 10-Year-Old's Creative Take On Fake Nails Has People Shook
Nailing that DIY
If you're planning on an at-home mani there are a couple of styles that will be your BFF -- and some to avoid.
"Square or squoval nails are the easiest to shape,' Leva told 10 daily.
Rounded nails or ones which taper in -- like almond nails -- are more difficult to make symmetrical so are often best left to the pros.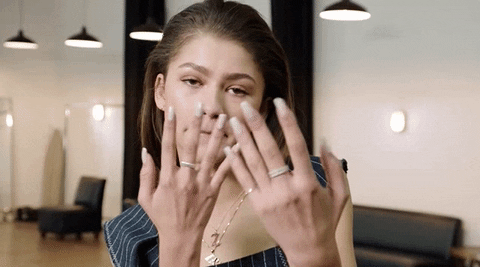 When it comes to shaping your nails at home it's more about having the right tools rather than what is easy -- Leva loves Manicare's Nail Shapers in Extra Fine/Fine.
"They're great for natural nails as they remove length without being abrasive," she said.
Hot in 2019
"This year we're back to basic shapes and shades," Leva revealed. Simple and elegant is the new look on the catwalk this season.
In terms of nail shapes, Leva suggests sticking with your natural nail shape.
This year's go-to colours are black, white, red and nudes -- "but if you're one to experiment I would try teals, metallics (gold, silver, bronze) and greens," she said.
Feature image: Instagram/@bernadetteleva_, Instagram/@guapas_nailsbar.