Frank Ocean Just Shared His Skincare Routine And Twitter Is Low-Key Loving It
The genre-blending tastemaker is a secret skincare junkie no more after revealing his go-to product -- and a few handy tips -- in a recent interview with GQ magazine.
The "Thinkin Bout You" singer opened up about many things in his cover interview with the mag -- including his music, political activism and making his Insta page public -- but it was his skincare routine that has everyone talking.
The 31-year-old -- who looks fresh out of senior high tbh -- revealed a knowledge of creams, serums and cleansers that is as a deep as a, well ... ocean.
READ MORE: Lindsay Lohan's Makeup Artist Spills On Her New 'Boss Beauty' Look
Turns out he's a religious user of night cream in particular -- it makes him "feel very beautiful, moisturized" -- and we couldn't be more in love with him for it.
"I really do believe in night cream," he said. "I need [it] because when I wake up [I'm] ready to have people making eye contact with me ... [laughs] That's the life hack right there."
We are so blessed.
The two-time Grammy Award-winner called out blokes for their lax approach to looking after their mugs.
"I feel like men just go to sleep," he said. "They may wash their face or they don't even bother -- they go to sleep with the day face on. You really need to do a gentle wash and put a night moisturizer on.
Hear that, boys?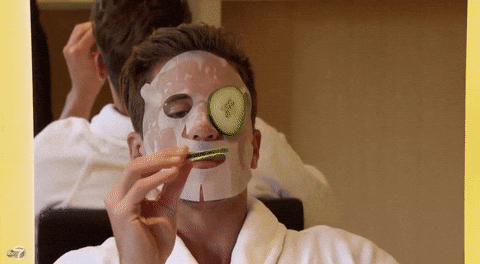 READ MORE: The New Face Of Benefit Cosmetics Is An Irish Model Who Has Down Syndrome
Ocean dropped a fire tip that everyone should know about using retinols. "You can't have the retinol in your creams in the day because it makes you more sun-sensitive, so you wanna throw that on at night," he explained.
Cheers, Frank!
Twitter has exploded with adoration for the star and his nightly regimen, which seems to have ignited the interest of men everywhere. Yes, Frank Ocean has officially made skincare cool for dudes.
This tweet is unavailable or no longer exists.
This tweet is unavailable or no longer exists.
This tweet is unavailable or no longer exists.
This tweet is unavailable or no longer exists.
This tweet is unavailable or no longer exists.
While Ocean may have just inspired a whole swag of men to give their skin some TLC, the singer has his own idol -- ageless 45-year-old Pharrell Williams.
"It's been all these years, and Pharrell still hasn't given us the keys yet," he told GQ. "He just says 'exfoliate,' but it's not just 'exfoliate.' We need more keys."
Your move, Pharrell.
Feature image: Twitter/@stalknickysmart, Instagram/@gq.