Rihanna's Savage X Valentine's Lingerie Collection Will Make You Love Your Body
Queen, visionary, artist and everybody's internet girlfriend, Rihanna, has once again gone and proven herself to be a major champion for the body positivity movement.
The singer has just dropped photos for her new Savage X Valentine's lingerie collection and not only do the products look downright deliciously sexy, but they also look pretty damn comfortable for EVERY BODY SHAPE.
To prove her body positivity point, Rihanna specifically used models of varying body shapes and sizes to advertise the collection.
READ MORE: Rihanna Achieves The Impossible With New Lipstick That Suits Literally Everyone
Rihanna's decision to include so many different body shapes was applauded by not only fans but also body positivity campaigners.
Body image therapist Ashlee Benett told 10 Daily "it's great to see a plus sizes emerging into typically' straight size' territory."
She added that "feeling cute isn't just for those in smaller bodies".
READ MORE: Rihanna Celebrates Her 'Thicc' New Figure By Stripping Down To Lingerie
Body positivity influencer Katie Lolas told 10 Daily she agreed, saying the "campaign empowers women to accept and adore their bodies at every size."
"All bodies deserve to be celebrated, idolised, represented, glorified and this is exactly what Rihanna had done with her new lingerie line."
While dietician Leanne Ward told 10 Daily that campaigns like this one are vital to helping disrupt the societies current obsession with only one body type.
READ MORE: Rihanna Used Fenty Lipstick To Create These Runway Looks
"With social media these days, we are constantly conditioned to think that the perfect airbrushed photos on Instagram are the norm. Sadly, this is not the case and we are often left looking for flaws in our own bodies that simply don't exist," she said.
Ward then went on to drop this huge truth bomb: "We don't have flaws, our bodies can be beautiful, strong and different and just because we don't see our body type in a magazine or on social media, doesn't mean it's unhealthy or unworthy."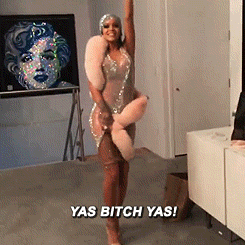 Excuse us while we take a cold shower.
Feature Image: Savage x Fenty