Golden Globes 2019: The Most Breathtaking Beauty Looks
Sorry, but boring has no place on this list.
The awards have been handed out and the mini bottles of Moet have well and truly been drunk -- now all that's left to do is bask in that post-Golden Globes glow by reliving all the best makeup looks.
From Thandie Newton looking like a literal disco ball to Amber Heard somehow managing to straddle the line between boho chic and bedazzled queen, here are our favourite looks from the 2019 Golden Globes.
READ MORE: Golden Globes 2019: Jameela Jamil Is Wearing Jeans On The Red Carpet
Lady Gaga
Because, well, of course, Gaga makes the list.
Looking like a cotton candy dream, Gaga paid an ode to another iconic actress, Judy Garland, who wore a similar-looking dress when she starred in 'A Star Was Born' in 1954.
She completed the look with a nude makeup palette and a soft whip of blue dye in her creamy white-blonde hair.
Janelle Monáe
The singer-slash-actress looked like an actual Golden Globe in this fancy golden tweed ensemble from Chanel, which she topped off with an Egyptian-themed leather hat.
She went in hard with the gold theme, keeping her overall makeup look soft while somehow managing to glow like literal Queen she is.
READ MORE: Golden Globes 2019: All The Best Looks From The Red Carpet
Camilla Belle
Take note Kath Day-Knight because this is how you wear aqua eyeshadow.
The actress took a massive risk by deciding to wear a bold sweep of aqua-hued eyeshadow on the red carpet, but it most definitely paid off.
Keeping the rest of her makeup simple, Belle managed to pull focus with her eye-catching look (pun most definitely intended) which matched the dreamy sea-toned embroidery on her figure-hugging Jason Wu design.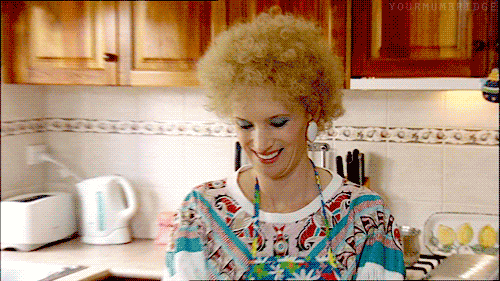 READ MORE: Golden Globes 2019: Here's All The Ways The Stars Got Ready
Lupita Nyong'o
Seriously though, Lupita Nyong'o is literally the only one person on this earth who can make blue lashes look good.
The actress's makeup artist broke down her look in an Instagram post, telling fans that he achieved Nyong'o's look with three key products: eyes with Lancome's Drama Liquid-Pencil Longer Eyeliner in Côte D'azur, Lashify's limited-edition Prismatic Colours A Gossamer Lashes, and Lancome Monsieur Big Colour Lash Top Coat in Blue.
Amber Heard
Hello, this article is now dedicated to worshipping the majesty that is Amber Heard's hair.
The stunning half-up / half-down 'do was created by the L'Oréal Paris Hair squad and manages to capture that bohemian 'I just threw my up hair up into a messy bun vibe', while still looking red carpet polished. WORK OF ART.
Thandie Newton
Looking like the personification of a disco ball, Newton shimmied down the red carpet in a silver sequined floor length gown that was truly drippin' in finesse.
Instead of keeping it casual in the makeup and hair department, Newtown went big, letting her natural curls bounce on out and made her eyes pop with a little messy mauve eyeshadow.
Feature Image: Getty