An Expert Weighs In On Beauty Blogger's Claims That Nappy Rash Cream Cures Acne
A Canadian beauty blogger has revealed her highly unusual acne treatment and it has people shook.
Farah Dhukai revealed to her 6.4 million Insta followers that she's been using nappy rash cream -- or as she puts it, "DIAPER RASH cream. Yea you read correctly! BUTT CREAM!" -- to zap her zits for years.
The video posted on December 11 has racked up 10 million views and shows Dhukai dotting the white cream -- typically used to soothe babies' bottoms --onto her red, angry pimples.
She told viewers that she applied the cream -- her faves are by Penatan and Zincofaz which both retail for about $10 -- before bed for three nights.
She also layered the cream under her makeup and -- ta-da! -- "it completely got rid of everything! Even the nasty exploded crater on my left cheek!"
Er, how?
READ MORE: If Your Pimples Could Talk This Is What They Would Say
Dhukai explained that nappy or diaper rash cream is "high in zinc oxide" which she claims helps reduce inflammation, lighten acne scars and "shrink gigantic planet-sized pimples."
Now, Dhukai is a massive advocate of DIY beauty and skin care treatments -- she makes her own tumeric eye patches and uses painter's tape to get perfect eyeliner -- but we still had some questions about her latest hack.
We asked Canberra-based dermatologist and skin surgeon Dr Leona Yip for her thoughts on using nappy rash cream to nix acne.
"It is understandable that beauty bloggers and cosmeticians explore and recommend acne 'treatments' that are easy to obtain and use," Dr Yip told 10 daily.
"There are so many that are being used after trial and error, but many of these are not founded by any or limited scientific evidence."
Nappy rash's 'wonder ingredient' zinc oxide, she explained, has only "low-level scientific evidence as acne treatment."
"It is therefore not used as conventional medical acne treatment by dermatologists as we prescribe much more effective treatments such as antibiotics and retinoids like oral isotretinoin (commonly known as Accutane or Roaccutane)."
Dr Yip agreed that zinc does have some anti-inflammatory properties which may help mild inflammatory acne -- called papulopustular acne in the medical sphere -- but it does little to comedonal acne such as blackheads and whiteheads.
"It also will not prevent severe scarring acne," she pointed out, which is contrary to Dhukai's claims.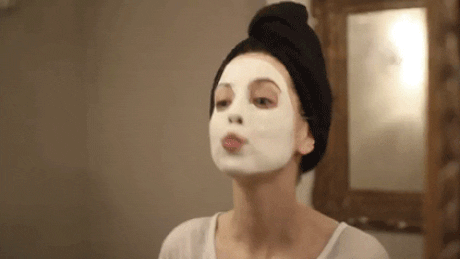 Her final thoughts on nappy rash cream? "I would view it as a complementary 'band-aid' option that may improve mild acne transiently. Therefore in most cases, the acne will recur."
While Dr Yip has never treated Dhukai, she suggested that persistent acne like hers -- she's been using her diaper cream trick since she was a teen -- may be tackled best with a course of Accutane.
"Remember that acne is a medical skin condition, and treatments should also rely on good scientific evidence for efficacy and safety. See your GP in the first instance for acne treatment, and they may refer you onto a dermatologist for specialist treatment options if required."
Feature image: Instagram/@farahdhukai.