Michelle Obama Proves You Can Be A Feminist And Still Wear Kinky Boots
The former First Lady looked F-I-E-R-C-E.
Michelle Obama wrapped up her book tour for her memoir Becoming In New York City on Wednesday and girl went out with a big fashion BANG.
The former First Lady stepped on stage for a chat with actor Sarah Jessica Parker in a slinky, sunny yellow wrap dress by high-end fashion brand Balenciaga.
For most of us, the frock on its own would've been enough, but not for MoBama. Instead, the 54-year-old strident feminist topped off her look with a very unexpected footwear choice.
READ MORE: 'You're More Than Enough': Michelle Obama's Emotional Letter To Her College-Age Self
And by 'unexpected' we mean a pair of iridescent, skin-tight, stiletto heel, thigh-high boots.
Oh yeah, she did that.
We can just imagine the conversation backstage.
Stylist: "Mrs Obama, we have these lovely black strappy heels ..."
MoBama: *waves them away* "Bring out the Balenciaga boots."
The internet is buzzing with love for the ex-FLOTUS and her sassy AF footwear -- which cost $5,600 and are also from Balenciaga -- with several Twitter users praising her for challenging the conventional dress standards for women.
This tweet is unavailable or no longer exists.
This tweet is unavailable or no longer exists.
This tweet is unavailable or no longer exists.
This tweet is unavailable or no longer exists.
This tweet is unavailable or no longer exists.
This tweet is unavailable or no longer exists.
When it comes to making a fashion statement, the mum-of-two knows exactly what she's doing, too.
She told the audience on the night, "I did know that my clothes were making a statement, I knew that was the case."
READ MORE: Barack Obama Dressed As Santa To Visit Sick Kids In Hospital
That's why Obama makes sure she shows lots of love to "young new designers who normally wouldn't get this kind of attention." Here she called out Taiwanese-Canadian designer Jason Wu, who was behind both of her jaw-dropping Inaugural Ball gowns.
MoBama continued to shake things up style-wise throughout her tenure as First Lady, opting to go *gasp* sleeveless for multiple ceremonial events -- most notably her official portrait.
Her 'right to bear arms' stirred up a lot of controversy, with many shading her for being inappropriate and not dressing like a First Lady should.
She addressed this in her book, writing, "As a black woman, too, I knew I'd be criticized if I was perceived as being showy and high-end, and I'd also be criticized if I was too casual."
What a woman. From the beginning, Obama not only acknowledged that her fashion choices would be torn apart regardless of whether she conformed or not, but she was also determined not to let it get her down.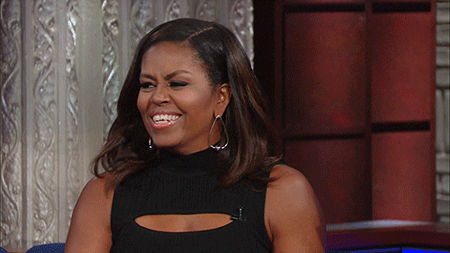 Her latest appearance in those boots goes to show that the fashion fire in her belly has yet to burn out.
She's out there showing everyone that yes, you can be a professional, sophisticated feminist and still wear a gosh darn hawt pair of thigh high boots.
We are so here for that.
Feature image: Getty.