Surprise! Kath And Kim Won Best Dressed At The AACTA Awards
They looked noice, different, unusual.
There was many a divinely dressed Aussie star on the AACTA Awards red carpet on Wednesday. Nicole Kidman sparkled in Valentino, while Sarah Snook slayed in a green pantsuit -- and no shirt. WOW.
They looked great, they did, but we're here to say that they did not win best dressed.
In a true 'surprise b*tch' moment that we'll never forget, OG style icons Kath Day-Knight and her daughter Kim showed up and cancelled farshun for the evening.
The foxy morons took to the stage to present an award wearing some trademark K&K threads, and all of a sudden it was like we were back at Fountain Lakes shopping centre in 2004.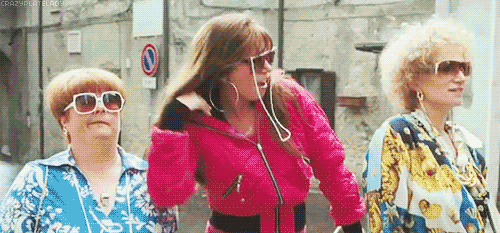 In true look-at-moi style, Kim opted for a baby blue cropped tee, with the slogan "All I want is EVERYTHING" which tbh is a real mood.
READ MORE: A Robot Sat In The Fashion Front Row And The Future Is Here
She paired this with some pink low-rider trackies, which perfectly showcased her hitched up g-string -- also in baby blue.
"It's been a while since I've worn the 'G', I have to tell you," she told the audience. "It's … an acquired taste."
So noice.
Her mum stayed classy in a red pleather pant and jacket combo, and she seemed to have taken a leaf out of Snook's book and ditched the shirt underneath.
We're sure Kel would've been gropeable.
In an elegant choice, both ladies made sure to bring their signature accessories -- totes printed with their own glamour shots.
The only think different about them was their hair -- where was Kimmy's extensions? And Kath's ... whatever her hairstyle is called? Without their usual 'dos they almost looked like completely different people ...
READ MORE: Plus-Size Models Shut Down Times Square To Stage Pop-Up Catwalk
And where was Sharon? Kim's second-best friend probably stayed home to watch the cricket, which is our loss 'cause you can bet she would've worn something like this: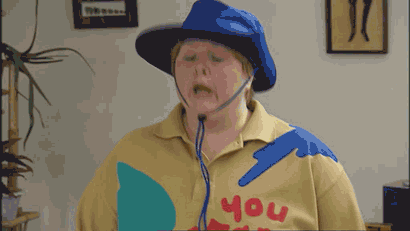 Feature image: Getty.