Get Ready To Raid Your Dad's Wardrobe 'Cause Flares Are Back, Baby!
So groovy.
Hey gents, this one's for you. Looks like your trusty pair of skinny jeans are no longer en vogue. Nope.
According to kooky fashion label Balenciaga -- of the shirt-attached-to-a-shirt fame -- flared denim is where it's at.
The label included the very ~groovy~ threads in their Spring '19 lookbook, which also featured plaid coats, puffer jackets and turtlenecks.
Synonymous with free-thinking hippies of the 1960s, and the glitzy disco scene of the 1970s, flares or 'bell bottoms' actually have their origins in the navy uniforms of the early 19th century.
READ MORE: Pudding Boobs Are Here To Wish You A Mam-Merry Christmas
The style really took off when power couple Sonny and Cher both sported flares on their popular TV show, The Sonny & Cher Comedy Hour, in the early '70s.
The trend for flares only just outlasted the duo's marriage -- which ended in '74 -- before falling out of fashion in the 1980s.
Will we see the wardrobe staple from the '60s and '70s trickle down from the runway to the local mall? Perhaps.
Chunky '90s 'dad' sneakers, bum bags and Bermuda shorts have all re-emerged from the back of our closets in the past year. So why not bell-bottoms?
READ MORE: Kylie Jenner's Crystal Plastic Bag Is Just The Bling-inning
A quick look at the men's denim offering at General Pants, ASOS and The Iconic turned up nothing more than a simple straight leg, suggesting that the mainstream haven't yet got the flare memo.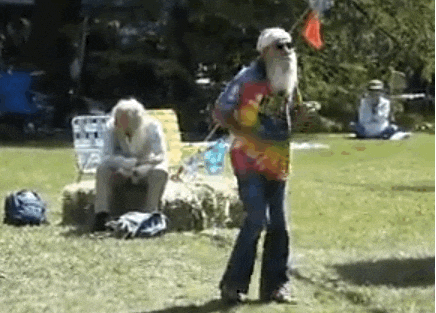 But why wait? We're betting that op-shops, or your dad/grandpa's closet have a few cheeky pairs tucked away ready for you to slip on.
You might get some looks but at least you'll know you're ahead of the (bell) curve.
Feature image: Balenciaga.