Victoria's Secret Angel Lily Aldridge Reveals Her $12 Beauty Must-Have
Let's face it -- Lily Aldridge can pretty much get her hands on any beauty product she wants.
So when the 33-year-old Victoria's Secret model -- who is pregnant with her second child -- decided to share her beauty routine, you'd be forgiven for rolling your eyes and thinking as if we'd be able to afford her go-to products.
Not so.
READ MORE: Zoë Foster-Blake Shares Her No-Fuss Daytime Beauty Routine
READ MORE: Victoria's Secret Model Shanina Shaik Reveals Her $18 Beauty Must-Have
In a pared-back video for Vogue, Aldridge shared her full pregnancy glow routine which was heavy on the natural skincare products.
According to Aldridge, she switched beauty products to be as natural as possible because she "believes that's really important". What for? We're not sure. But if it helps us to even remotely resemble her -- we are so here for this.
Aldridge starts her routine by lighting a Le Feu De L'Eau Tuberose Candle ($65) and then spreads Fresh's Lotus Youth Preserve Rescue Mask ($62) across her clean face.
Then Aldridge's continues her self-care routine by placing a Hatch Mama Belly Mask all across her glorious pregnant belly. The best part about this bit? The mask only costs a measly $12.
Aldridge swears by it, saying it's designed to help reduce stretch marks, something suffered in her last pregnancy.
The model then rubs a little of Naturopathica's Manuka Honey Cleansing Balm ($62) which she said she only recently discovered. Next up is a facial massage with ReFa's Carat Facial Roller ($209.99) which she swears helps to reduce any puffing and sculpt her cheekbones.
Next up is a veil of KORA Organics Soothing Moisturiser ($48) and a slick of Windsor Edwards Lip Balm ($16). Aldridge then moves onto her body by rubbing Kate McLeod's Mama Stone cocoa butter ($45) "everywhere that's growing ... which is literally everywhere right now".
Alridge then takes the focus back to her face, dabbing RMS's Un Cover-Up Concealer ($36) under her eyes (she's a number 23), before rubbing on some KORA Organics Noni Glow Face Oil ($68) and, in turn, creating her own makeshift foundation.
"It'll spread easier, and it becomes more of, like, almost like a tinted moisturizer, so you get a little bit extra coverage without it being as thick as a concealer," she explains.
She even throws in a tip for contouring, suggesting we use a darker colour concealer and just dabbing it onto our cheekbones before joking that she's "just try'na keep those cheekbones alive!"
She then adds a little highlighter and a pop of cream blush on her cheeks advising that "less is more", before giving her lashes a curl with an eyelash curler and finishing her look off with a slick of Rodin x Vanessa Traina lipstick in red dahlia ($38).
And that's it! Go forth and slay mama, slay.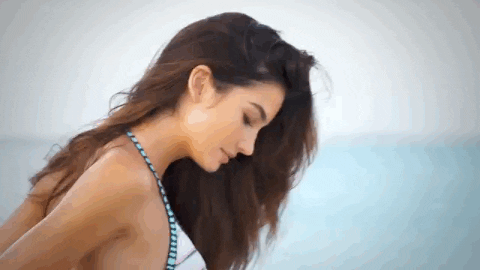 Feature Image: Getty