Victoria's Secret Model Shanina Shaik Reveals Her $18 Beauty Must-Have
Just take all our money!
She might be one of the most beautiful women in the world but as it turns out, Australian model Shanina Shaik is pretty low-maintenance when it comes to her beauty routine.
In an interview with Refinery29, the stunning 27-year-old spilled the contents of her beauty bag -- and revealed her pretty affordable (and some not so affordable) beauty essentials.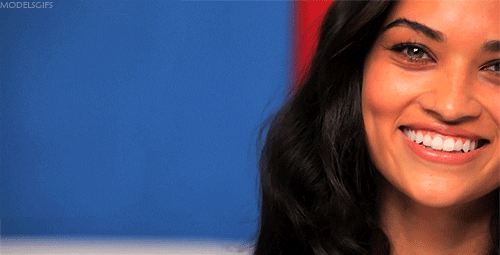 One of the most surprising items in her bag was a tube of concealer from Kim Kardashian's beauty line KKW.
"I really love Kim's new concealer line," she told the publication.
"With summer right now, my skin is fluctuating in skin colours and she has so many colours. Right now I'm a number eight."
READ MORE: All The Juicy Backstage Action From The Victoria's Secret Fashion Show
READ MORE: Grab Your Wings, It's The 2018 Victoria's Secret Fashion Show
Among Shanina's other affordable must-have's was Maybelline's Total Temptation Mascara -- which you can pick up from Priceline for only $21.95.
According to the model, she 's been using Maybelline's mascaras "since I was a teenager".
The model -- who totally owned the runway during the 2018 Victoria's Secret Show -- also revealed her penchant for fellow Aussie Miranda Kerr's beauty line, KORA Organics, singling out her Noni Radiant Eye Oil as a personal favourite.
She said: "What I love is that instead of putting cream on your fingers you don't make a mess ... you just roll it on."
You can pick one up from the KORA Organics website for $49.95.
Shanina's other -- and perhaps less affordable -- items include:
Joanna Vargas Skincare Bright Eye Firming Mask which you can buy from REVOLVE for $91.60.
The model said she loves it because "sometimes I'll travel and get off the plane and go straight to set, but I have to look good and these come in handy."
She's also a fan of Soleil de la Mer's Reparative Face Sun Lotion due to its SPF 30+ protection. It's yours for $135.
"Even on the plane you can get sunburnt," she explained.
Shanina also swears by HUM Vitamins, which she said: "have been working for me".
The specific product she uses is the brand's Daily Cleanse which, according to the website, helps to "clear your skin and body from toxins".
You can pick up a jar for $25.
As for those other handbag incidentals we all lug around with us, Shanina said she never leaves home without her passport, doggy bags ("I hate people who have dogs and leave their mess on the street) and her new favourite book "You Are A Badass".
Feature Image: Getty