The Summer's Hottest Shoe Is From Kmart And It's Already Selling Out
No wonder -- these $15 woven mules look a million bucks.
There's been a bit of hype lately around crafty customers' 'Kmart hacks' -- one woman turned a table mat into a fascinator -- but not everything in your fave cheap and cheerful department store needs the DIY treatment to make it ~trendy~.
Far from it. Kmart's entire women's summer range is so on point, from their printed midi skirts to polka dot jumpsuits, and even a near-match for a certain Duchess' sun dress.
Heck, they had even jumped on the Bermuda shorts bandwagon before it got big.
We weren't surprised to discover that Kmart was killing it in the accessories department, too. Par exemple, this pair of almond toe woven mules.
They come in three colours -- beige, black and white -- to suit any/all of your outfits, and their chic pointed shape and woven detailing makes them look super exxy.
But of course, they're not exxy at all. At $15 they are a steal.
So much so they're flying off shelves, with many Insta users popping up in the comments on Kmart's posts eager to hear news of a restock.
READ MORE: These Are The Cheap Beauty Products Celebrities Actually Use
The fact that they bear more than a passing resemblance to a $259 pair by fancy Byron Bay label ST. AGNI might also have something to do with their popularity...
We were able to find a few sizes in all three colours online, however the beige pair seems to be the favourite and is selling out fast.
READ MORE: Hello, Gucci Is Now Selling Dirty Sneakers For $1,100
Best be quick if you want to nab yourself a pair of what's shaping up to be the summer's hottest shoe.
If you do miss out, fret not. Kmart's got other bangin' styles on offer like these $10 cross braid sandals.
Happy shoe shopping!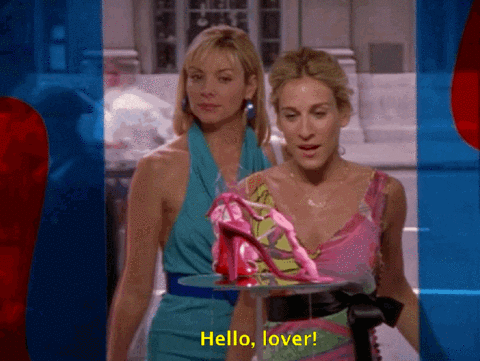 Feature image: Giphy, Instagram/@kmartaus.