Meet The Four Aussie Angels Walking This Year's Victoria's Secret Fashion Show
Say g'day to these true blue beauties preparing to take the 'Superbowl of fashion' by storm.
It's not called the Superbowl of fashion for nothing. The annual Victoria's Secret Fashion Show is all about lights, cameras and a whole lotta action.
Since 1995 iconic lingerie brand has sent a bevvy of beautiful women -- or 'Angels' as they're aptly known -- down the runway at the glamorous, televised event.
Millions around the globe have tuned in over the years to watch supermodels such as Heidi Klum, Tyra Banks, Alessandra Ambrosio and Australia's own Miranda Kerr slip into sexy VS designs and do their thang.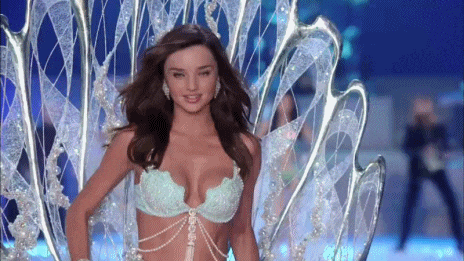 In 2018, it's Aussie's Shanina Shaik, Duckie Thot, Kelly Gale and Alannah Walton's turn to shine.
The four beauties, who hail from all across the country, will jet off to New York on November 8 to film the show which will then be broadcast on December 2.
For first-time Angels Thot and Walton there are bound to be nerves, but at least they have veterans Shaik and Gale to guide them through.
Here's everything you need to know about the Aussie VS contingent set to storm the catwalk.
READ MORE: Victoria's Secret Drops Affordable Version Of Their New $1M Fantasy Bra
Duckie Thot
Melbourne-born Thot earned her nickname 'Duckie' after her classmates and teachers found it hard to pronounce her given name, Nyadak.
She may only be 23 but the 5ft 10.5in stunner has already achieved so much. She finished in third place in Australia's Next Top Model in 2013, then went on to make her runway debut at Kanye West's Yeezy Spring/Summer fashion show fours years later.
Thot is also somewhat of a muse to singer Rihanna who loves to feature her on the catwalk and in ads for her Fenty lingerie and makeup brands.
Moschino, Balmain, and Oscar de la Renta all came calling, then Thot got the best news of her career when Victoria's Secret named her in their 2018 line up.
Watch her totally freak out (in the best way) when she found out the news:
Shanina Shaik
Also hailing from Melbourne is wide-eyed beauty Shaik, who's sizzled up the VS catwalk five times before.
After a two year break -- during which the 27-year-old wed her main man Gregory 'DJ Ruckus' Andrews -- Shaik is returning to collect her VS wings once again.
She told 10 daily that she's approaching the 2018 show with a new mindset. "I'm usually filled with nerves and butterflies [but] I felt confident this time," she said.
Shaik got her break at the tender age of 15 when she came second on Aussie reality TV show Make Me A Supermodel, then went on to work with Chanel, Stella McCartney and homegrown fave BONDS.
Kelly Gale
Swedish-Australian Gale made her VS debut aged 18, and has since strutted her stuff a further three times in 2014, 2016 and 2017.
READ MORE: Finally We Have Diversity In The Victoria's Secret Show
In between stints as an Angel the 23-year-old lends her incredible features to high-fashion brands like Ralph Lauren and Jean Paul Gaultier, and she was also the Playboy 'Playmate of the Month' for September 2016.
Even though 2018 marks her fifth turn on the catwalk for Victoria's Secret, the sporty babe is no less pumped, sharing her excitement on Insta.
Alannah Walton
Another VS first-timer from down under is 18-year-old Walton from Sydney, who'll no doubt be happy to have her trio of other Aussie Angels by her side.
After working with Aussie department store David Jones and labels Bianca Spender and We Are Kindred, Walton is about to step onto the international stage and oh boy is she excited.
She told Marie Claire Australia how she found out she'd got the job -- the senior creative for Victoria's Secret, Ed Rasek, casually told her at a party in New York City days before the official announcement.
That's showbiz, baby!
Best of luck to our Aussie beauties!
Feature image: Getty.