The MOSCHINO x H&M Collab Has Landed In Aus And Here's How To Bag Some Swag
That's if you can get inside the store ...
The highly-anticipated collab between fashion house MOSCHINO and Swedish chain store H&M finally dropped world-wide -- including in Aus -- today and we predict a riot.
The MOSCHINO [tv] H&M range, as it's officially called, includes clothing and accessories for both guys and gals, and features everything you'd expect from MOSCHINO's colourful designer Jeremy Scott, and more.
Think OTT streetwear with signature chunky gold accents, playful takes on Disney characters and a general sense of cheekiness and fun.
There's a handbag shaped like a condom wrapper, for example, and a life-sized teddy bear phone case. Practical, no?
Your four-legged friends don't have to miss out either, with Scott throwing stylish dog coats, collars and leads in the mix.
The best part of all? All this kit is priced between $29.99 (for a signature tee) to $499 (for some super exxy exclusive leather pieces.)
Most items like jumpers, trackpants and crop tops sit under or around 150 bucks. Noice.
READ MORE: This Label Featured Different-Sized Models And It Was So Important
Safe to say that the global anticipation was high. Sky high.
This tweet is unavailable or no longer exists.
This tweet is unavailable or no longer exists.
This tweet is unavailable or no longer exists.
Small problem. Aussies can only get their mitts on this swag at four -- count 'em: FOUR --locations across the country.
That's H&M stores at the GPO shopping centre and Chadstone, Melbourne, Pitt St Mall, Sydney and Rundle Mall Plaza, Adelaide.
READ MORE: Victoria's Secret Drops Affordable Version Of Their New $1M Fantasy Bra
The madness kicked off at 9 on the morning of November 8, but the queues outside the Sydney store were already forming much earlier on.
H&M were prepared for the onslaught in stores -- especially since you can't stay home and buy it online BTW -- with this strict set of queuing and shopping rules:
There were two queuing systems in store: one to shop the womens' collection and one to shop the men's. Customers got a coloured wristband that determined when they and the 19 other customers in their group could enter the store and shop in the designer collection area.
You only got 10 minutes to shop, and the groups were staggered by five minutes to give time for people to get in and out (and the staff to have a breather, obvs.)
You were only allowed to buy one piece per style with a maximum of five pieces per customer. This applied to all items in the collection including accessories, shoes and bags. Once something's sold out, it's sold out. Game over.
So. Many. Rules!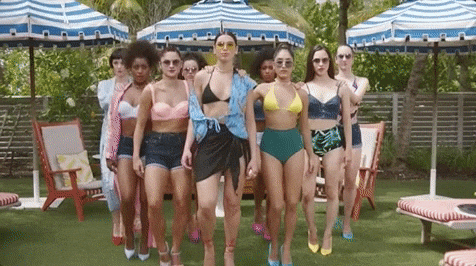 Oh and there was no going back once you'd bagged your swag either, 'cause the brand clearly stated that there will be no exchanges or refunds. Okay then!
If you are heading out to shop up a storm, hopefully the chaos has died down by now -- and there's still stuff left on shelves.
Who said shopping wasn't a sport? May the best man, woman, pet or child win!
Feature image: Instagram/@itsjeremyscott