Victoria's Secret Drops Affordable Version Of Their New $1M Fantasy Bra
SHUT UP AND TAKE OUR MONEY.
In case you missed it -- and tbh you probably didn't if you're anywhere near social media -- lingerie brand Victoria's Secret revealed their brand new $1 million 'Dream Angels' Fantasy Bra on Monday.
This year's blingy bra features 2,100 Swarovski diamonds and responsibly sourced topaz, is more than 71 carats and took over 930 hours to make.
Oh, and did we mention it costs a million dollars?
Sure, it's $1 million less than last year's -- worn by Lais Ribeiro -- but hey, who's counting?
VS Angels like Heidi Klum, Tyra Banks and Alessandra Ambrosio have all sported various iterations of the Fantasy Bra every year (bar one) of the show's 23 year history.
READ MORE: Covergirl Is Now Entirely Cruelty-Free Worldwide
The bra's big reveal begins the countdown to the annual televised show that sees huge music acts like Ariana Grande, Rihanna and The Weeknd perform.
In 2018, stunning Swedish beauty Elsa Hosk will have the honour of slinking down the VS catwalk in this most recent creation. The 29-year-old made her show debut in 2011, and became a full-fledged Angel in 2015.
She also almost took out Ariana with her giant wing in 2014. Awks.
Hosk was understandably stoked with both the job and the exxy bra, telling PEOPLE, "It's just very cool, very simple, modern, and so sparkly. If I would have designed it, it would have looked just like this. I put it on and I was like, 'It looks like someone just made magic and put it on my body.'"
It is pretty gosh darn stunning. But where does that leave us? Maybe we want to put our lady lumps in something covered in Swarovski sparkles but can't quite afford the HUGE price tag.
READ MORE: Colourful Tooth Paint Is A Thing Now, Apparently
Well VS doesn't want us to miss out on the bedazzled boob fun. They're releasing a similar yet far less pricey version of the Fantasy Bra that all of us -- yes, even us Aussies -- can buy.
The limited edition Victoria's Secret X Swarovski bra has the same long-line shape and a substantial amount of the sparkle, but instead costs about $346. According to the brand it's on sale on November 29 at select stores and online.
Just in time for Hosk to show off the real deal on the runway on December 2.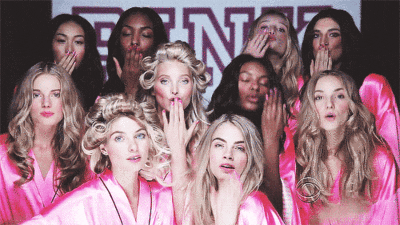 Feature image: Getty.