J-Lo Stuns In Racy Throwback To That Versace Grammys Gown
If it ain't broke...
Jennifer Lopez has sent wigs flying and left the general population shooketh in a newly-released shot from her December 2018 cover story for InStyle magazine.
A near-nekked J-Lo is pictured draped what can only be described as a barely-there green sequin Valentino cape, and it bears more than a passing resemblance to another jaw dropping lewk from her past.
We're talking of course about that plunging Versace number the "Booty" singer sported to the Grammy Awards 18 years ago.
Back in 2000, J-Lo and her silk palm-print dress quite literally broke the internet. It was searched for so much that Google decided to invent their image search function.
READ MORE: J-Lo Signed An Autograph For Her Boyfriend 20 Years Ago
Yes, people -- these two stunning images were taken almost TWO DECADES apart. Sweet lord, we'll have whatever she's having 'cause mama looks incredible.
The 'Gram, which she uploaded on Thursday morning, has racked up 2.8 million likes -- and counting-- in the first few hours alone.
Unfortunately for us it's only possible to double-tap a post once, but we're gonna go ahead and do it a million times which is what this divine sequin-y green goddess rightfully deserves.
In other snaps she shared from the editorial, Jenny from the block doubled down on the green theme in an emerald velvet cut-out sheath dress, and a pair of fold-down heeled boots.
READ MORE: Drew Barrymore's FLOWER Makeup Line Is Coming To Australia
The mum of two kept her honey blonde locks in a mermaid-like half-up-half-down 'do throughout the shoot, and opted for minimal silver jewellery.
Her makeup was similarly demure, with a nude lip and some lashings of mascara all Jen needed to make us swoon.
In the mag, the actor/singer/higher being spoke about championing a curvier body type, something which she was never really aware she was actually doing.
"I was just being myself. In my family, curves were glorified and part of the culture. It was just like 'Jennifer has a big butt, and it's good.'"
Amen to that, sis.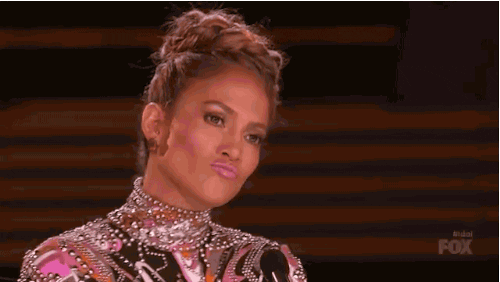 The 49-year-old -- yes, you read that right -- went on to touch on how she has consistently and successfully reinvented herself throughout her incredible decades-long career.
"You're here until you're dead. So, you might as well do shit."
Well, if 'doing sh*t' means absolutely killing it in terms of music, film, fashion and self-love, then please J-Lo keep doing you.
Feature Image: Instagram/@jlo, Getty.