I Used A Personal Stylist And It Actually Changed My Life
Seriously, it did.
No one ever asks you what you want to dress like when you grow up.
You're usually asked what you want to be instead. If someone had've asked me at age 11 what I wanted to dress like I feel we may have avoided the Lilac Outfit of 2001.
It consisted flared corduroy pants, a semi-sheer short-sleeve crop top with a lettuce hem -- you know, with the curly edges? -- and a pair of rimless Jessica Simpson-inspired sunglasses with a diamante love heart on one lens.
Every item was in a sickly lilac hue because purple was COOL and FUNKY and SOPHISTICATED, guys. Sure, growing up is all about outfit disasters. How else would we find out what goes with what? But something tells me the Lilac Outfit could've been somewhat refined if I'd had slightly more insight into my own sense of style.
Ah, hindsight. You know what, I'm going to own it, diamante sunnies and all. Here we are now, some 17 years later and even though I've left the purple flared cords where they belong, I'm still not that much closer to finding my personal style.
That's where a personal stylist comes in, and before you snort and mutter something about it being 'just for rich people with black Amexes and lots of free time' let me admit something: that's what I thought too.
A personal styling session was never in my life plan. But was I curious? Yes. Plus, my workmates were sick of seeing me in the same outfits day in day out.
I needed a bit of help. I needed Rosie McKay, stylist and founder of My Virtual Stylist which aims to revolutionise wardrobes and the way people perceive personal styling.
First up McKay had me send over some pics of myself in my normal 'day look' which is basically anything that's clean. Yep.
Then I had to fill out a rather extensive questionnaire which asked me standard stuff like my clothing size and fave colours – no I did not pick purple -- right through to in-depth things like which items i preferred to splurge on (shoes, obvs) or save on (jewellery.)
The process was pretty eye-opening in itself, not just because it forced me to measure my bust/waist/hips. Last time I did that was back when shopping for my high school formal dress ...
Besides the practicalities of finally knowing what size I wore, the questionnaire also prompted me to really think about what was and wasn't important to me when it came to style and fashion. It was probably the first time I had ever done that (see the aforementioned Lilac Outfit for context).
I also had to nominate some celebrity style inspiration, which was probably the easiest part. I popped down Brit it-girl Alexa Chung for her rock 'n roll meets girly vibe and Aussie Harper and Harley blogger Sara Crampton 'cause girl can make a simple pair of jeans, a black top and a modern low-heeled shoe look a million bucks.
I hit 'send' and waited for Rosie to transform me into Alexa-Sara.
Pretty soon after i received an email with my Style Guide and Shopping Edit in the form of a seven page lookbook. I flicked through and noticed that it wasn't at all what I expected.
The first page had a few pics of my girls Alexa and Sara and stated my style, 'minimal cool.' I related to the 'minimal' part but 'cool?' Not so much. Yet.
The next few pages were the Shopping Edit, split into sections for jackets, bottoms, tops, and accessories. What surprised me most was the small number of pieces. Two jackets. One dress. Three bottoms -- a midi and mini skirt and a pair of edgy two-tone jeans.
The final few pages featured the Style Guide, and this is where it started to come together for me. Individually, the items looked a bit ... lost but McKay had worked her magic, grouping things together into a variety of inspiring outfit combinations.
There were a surprising seven combos in total, all listed out in handy fashion 'equations,' like so: "1. Blazer + peach knit + jeans + belt + earrings + bag + block heels."
See, maths is fashion and fashion is maths.
McKay had also included styling tips tailored to me and my body type. It was mostly about "creating curves" and "accentuating my waist" which sounded good to me.
Now the only thing left to do was to test out my new lewk. Of course, I didn't already own all of Rosie's delightful clothing suggestions -- der, that's the whole point -- but I also wasn't quite ready to commit to buying anything.
So I sent my lookbook to the Ten Styling Team -- they're the geniuses behind The Project host Carrie Bickmore's on-screen looks, among many others -- and they kindly pulled together some pieces from the on-site wardrobe, just for moi.
Work perks, hey?
Without further ado, here I am in all my Alexa/Sara-inspired fashion glory.
Look One
This was my take on Rosie's outfit combo five, and as far as getting off to a good start this was a ripper. It consisted a trench, stripe knit, denim skirt and wedges or block heels (I opted for the latter.)
This was definitely one of those work-to-drinks looks that everyone always talks about.
I actually owned all the items except the blush trench, and it showed me how a single 'statement piece' -- to use a farshun term -- can really upgrade your existing wardrobe.
Look Two
This was a bit of a DIY look as it didn't really conform to any of Rosie's outfit combos, but here's hoping she approves! It does however follow her styling tip about tucking in tops into high-waisted styles to "create a more shapely silhouette."
I personally liked this a lot, as I tend to stick to three colours only: black, white and blue. The top was great, and I enjoyed how the fluted cuffs made it a bit dressy and different. Also, according to Rosie, "Volumimous sleeves help to make waist to appear smaller."
Ten Styling are lucky they got that top back, tbh.
Look Three
The final look was also a bit freestyle, as the Ten Styling Team didn't have on hand the peach knit Rosie had suggested. When they offered this bright orange-red number instead I was so not sure.
I do not normally wear much colour, and certainly not something from a Crayola packet. But I gave it a go and, of course, I was immediately converted. This knit is the sh*t, and the cutout made me look like a space air hostess.
Please note, I had to borrow the Gucci belt because this girl ain't got that type of budget.
Overall my personal styling experience was unexpectedly awesome and valuable. When it came time to actually put the outfits together is when I learnt the most. I would've walked past most of Rosie's picks had I seen them in a shop. Seeing them on me was a whole different ballgame.
I was pleasantly surprised by how many of my own pieces I was able to work in with Rosie's suggestions. This made me value what I already had more, and helped me see that I needed to introduce only a few new pieces to really refresh my whole look.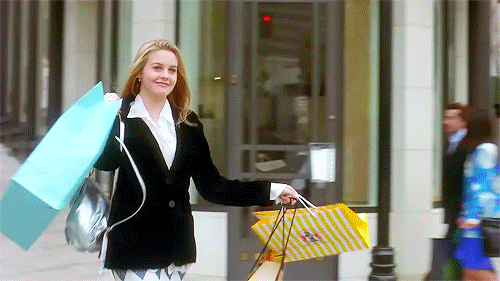 This is great news for people who, like me, are on a bit of a budget. Sure, there were a few exxy designer pieces in there but for the most part it was all quite affordable. Aside from the Gucci belt and bag, and fancy pair of heels, everything else came in at under $250.
Plus, like me, you could find substitutes for the more expensive pieces that work for your budget. My version of the Gucci bag in look two was a Status Anxiety clutch that costs a tenth of the price.
Am I going to go out and buy the rest of the pieces in my lookbook? Probably not. But will I keep my newfound knowledge in mind when I do hit the shops? Most certainly.
All-in-all, I had a blast, and seeing yourself in some fresh threads that really suit you and your body does do wonders for the old self-esteem.
Here are some personal styling myths that I once believed, but busted along the way:
Buy, buy, buy!
A personal stylist doesn't want you to purchase the entire content of The Iconic. A few key, classic pieces is really all you need to breathe new life into your wardrobe. Quality over quantity, peeps.
Burn everything you already own
Please, please don't do this. As I discovered, there is ample opportunity to work with the pieces you already own and love. As mentioned above, it's all about injecting a few new bits and bobs, not throwing the baby out with the bathwater.
One size fits all
Rosie used my 'before' pic and all my responses in the questionnaire to tailor her recommendations to me, my tastes and my body type. It wasn't a case of 'Kim Kardashian is wearing this so you should too.' Clearly I am no Kimmy K, so a lot of curve-creating pieces with nipped-in waists were in order.
Personal stylists are for rich/famous people only
I fall into neither of those categories, which is why I think there's the biggest potential for me, and people like me, to benefit from this type of service. Celebs are already very familiar with what makes them look good.
In terms of cost, the Express Style Package, which is what I got, rings in at $200. For me, I feel like this was enough to set me in the right direction, however you can pay extra to have Rosie's picks sent to you, or to have a one-on-one session with her in person.
Feature image: