Rihanna Just Wore Her Fenty Lip Gloss In The Wildest Way
Don't try this at home, kids ...
Rihanna has just graced the cover of Allure magazine's Best Of Beauty special edition repping a full face of -- what else -- her own makeup line, Fenty Beauty.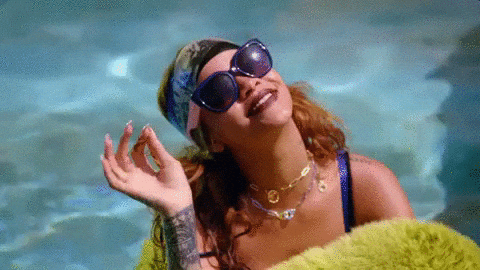 And why shouldn't she? The issue is kinda all about RiRi, after all. Not only did Fenty's Pro Filt'r Foundation, which caters to a wide range of skin tones, scoop the mag's Breakthrough Award, but it was an all-out celebration of the brand's one year anniversary.
Time sure flies when your makeup is on point.
READ MORE: Rihanna's Fans Think Marc Jacobs Sabotaged Her NYFW Show
It wasn't just the star's flawless cover lewk that stopped us in our tracks, though. It was a photo from inside the mag featuring the "Diamonds" singer with braided hair and silver, sparkly eyes, lips and, er ... tongue that had us all like, huh??
Now, we're all about products that can pull double duty -- a tinted lip balm that can be dabbed on cheeks as blush, for instance -- but lip gloss on our tongues? That might be taking it a bit far.
The product in question is Fenty's Gloss Bomb Universal Lip Luminizer in Diamond Milk and tbh it looks amazing on both RiRi's pout and tongue, but the idea just doesn't feel right.
Maybe it's just the thought of accidentally ending up with lippie on our teeth, chins or anywhere outside of our lips that has us a bit uneasy.
Perhaps the beauty queen wasn't able to resist the "addictive peach-vanilla scent" and just had to have a quick taste mid-shoot?
But, hust 'cause the gloss has the word 'milk' in the name doesn't mean it's edible, Rih.
Or maybe Fenty global makeup artist Priscilla Ono painted it directly onto the Bad Gal's tongue?
READ MORE: Her Mind! Rihanna Names New Eyeliner After Iconic Twitter Clapback
We wouldn't put it past Rih, as she did use her iconic her Mattemoiselle lipsticks to create striking eye looks for her lingerie brand Savage x Fenty's runway debut at New York Fashion Week.
Her mind, right?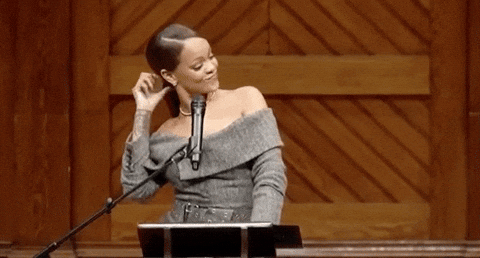 We might never know the truth behind her sparkly, glossy tongue, but we do know that this look might not be one to try at home.
Feature image: Getty.