This Bride's Gown Has Pockets And Twitter Is Shooketh
A #weddingdresswithpockets is a thing that we all need to know about.
It goes without saying that Esther Kezia Thorpe adored everything about her friend's wedding dress, but there was one thing about it that really blew her away, so much so that she had to share it all on Twitter.
The strapless fit-and-flare gown had ...
POCKETS!
This tweet is unavailable or no longer exists.
London-based marketing manager Kezia Thorpe's happy snaps show the smiley bride kicking up her heels -- and making the most of her dress' practical yet chic feature.
This tweet is unavailable or no longer exists.
The reaction from Twitter users was overwhelmingly positive, with women in particular commending the bride's pocket choice.
It all gave fresh meaning to this gentleman's keen observation.
This tweet is unavailable or no longer exists.
Others were new to the dress-with-pockets concept, but Kezia Thorpe and her fellow tweeters jumped right in to explain the joyful benefits of pockets.
Basically, this: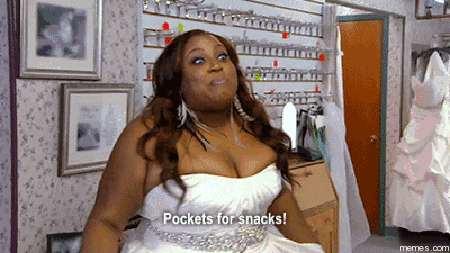 Brides everywhere started joining Kezia Thorpe's Twitter thread to show off their very own #weddingdresswithpockets, and it's pretty darn glorious to see.
From tissues, vows, bottles of water, lippie, pictures of grandparents and even insulin pumps, these brides sure put their pockets to good use.
In case you're after a pocket-y dress of your own, Kezia Thorpe was kind enoguh to share the name of the dress designer, Suzanne Neville, who is no doubt about to get an influx of orders.
As one happy dress-with-pockets-wearing bride put it, "YASSSS. Pockets unite!"
Feature image: Twitter/@EstherKeziaT.