Pink Is So Hot Right Now And We Know Why
It's ~science~! Well, kind of ...
Pink -- the colour not the singer -- appears to be a major celeb fave at the moment.
(So is P!nk, btw, just for different reasons.)
We're not talking exclusively about 'millennial pink' -- that cotton candy shade that was du jour in 2017 -- either. Pink in 2018 is more egalitarian. It's all shades. It's magenta, Barbie, flamingo, fluoro and the aforementioned bubblegum.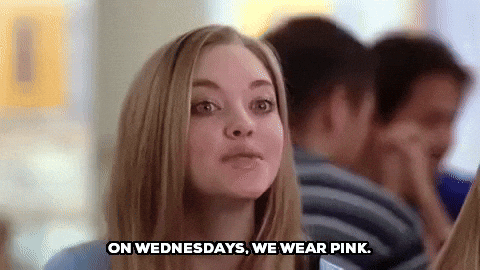 Nor is it just for millennials, as shown by the newly 21-year-old Kylie Jenner (who wore not one but two pink birthday outfits) and the iconic Celine Dion.
So what's the big buzz behind pink? Is it simply a nice colour to wear or is there a deeper meaning there?
We chatted to Julee Latimer, a full-time artist with a background in interior design and Colour Theory, to find out the meanings behind the many shades of this pretty colour.
First up, some colour basics. "Pink is the result of tinting red with white in varying degrees, so it shares many of red's attributes albeit with a softer focus," she told us.
While red is said to be a passionate colour -- think fire flamenco dancers and blood -- pink is softer, more delicate and more romantic.
In Western societies, it is seen as a feminine colour, so you could surmise from this that the wearer is enhancing their femininity without the overt sexiness of red.
No prizes for guessing why Kylie chose this searing hot shade for one of her two pink birthday outfits.
But pink is so much more than just a feminine colour.
"The soft, almost childlike effect of powder pink is different to the sophistication of nude pink or the visual excitement of hot pink, for example," Latimer explained.
Pink is also associated with the central heart chakra, halfway between the physical (red, orange, yellow) and the spiritual (blue, indigo, violet).
It can, therefore, be said to represent balance, and also caring and touch.
It is believed to have a calming effect on people and is associated with nurturing, and in its lighter forms, with innocence.
Similar to red, pink is an optimistic colour -- ever heard of the saying, 'rose-tinted glasses?' -- and can sometimes be seen as hopeful or possibly even naive.
At the end of the day, it's tricky to pinpoint the exact feeling you get from wearing pink because it simply comes in so many strengths and shades.
Here are some pink-loving celebs rocking a range of hues to whet your appetite for this surprisingly ~meaningful~ colour. Can you guess why they chose to wear pink?
Lili Reinhart
Camila Mendes
Elle Fanning
Harry Styles
Kim Kardashian
Justin Bieber
Céline Dion
Anna Kendrick
Feature image: Instagram/@kimkardashian, @lilireinhart, @celinedion.