Harry Styles, Prince Of Our Hearts, Steals Style Crown From Meghan Markle
Styles by name, stylish by nature.
We were all in quite the tizz back in June when in a world-first, actor-turned-bona-fide-class-A-royal, Meghan Markle, was nominated alongside the likes of Harry Styles, Blake Lively and Zendaya for the 2018 Teen Choice Choice Style Icon Award.
Everyone was all like, 'Do Duchesses even do teen-skewed award shows??'
Well, the awards show rolled around on August 12, and -- spoiler alert -- it turns out, they don't. And not only that, it seems that Duchesses don't win, either.
That's right, Ms. Markle was pipped at the style awards post by none other than Harry. Not her Harry, of course, but the true prince of our hearts: Harry Styles.
This tweet is unavailable or no longer exists.
As much as we adore Ms. Markle's lewks, we all kinda knew that the true style icon, Harry Styles, would take the proverbial cake on the night. And what a well-deserved win it was.
The 24-year-old's fashion choices, particularly during his recently-completed world tour, have been outstanding. Speaking of his tour, he also nabbed the nod for Choice Summer Tour to boot. Noice.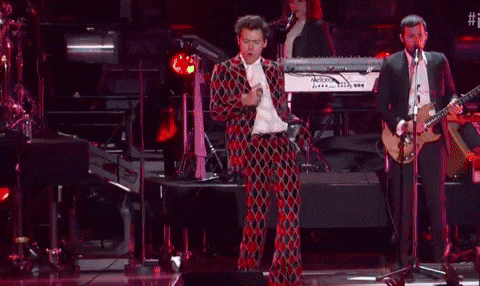 But back to the farshon. This guy can rock the flipping heck out of a suit. Not just any suit, though, because Mr. Styles has a flair for, well ... flares. As in flared pants.
As well as over-sized collars, retro prints, embroidered and/or fringed jackets. Oh and we can't forget about his penchant for an artfully tied cravat.
He's colourful and flamboyant and dapper and chic. He's a modern version of the '70s dandy rock star. He's this generation's Mick Jagger. There. We said it. Feel free to @ us.
He's starred in his own Gucci campaign for goodness sake.
So all in all, it's probs best that Meghan decided to sit this one award out because, well you just have to scroll through our hand-picked Harry pics below to see what we mean.
Feature image: Getty.