Rihanna To Save The World With Limited-Edition Highlighter
She shines bright like a diamond. A beautiful, special, one-of-a-kind diamond.
You might think it impossible, but you're about to fall even harder for Rihanna. RiRi is combining her two loves -- beauty and philanthropy -- in a new, limited edition version of one of her best-selling Fenty products.
The singer/actor/goddess announced on July 25 that fans can expect hot and fresh addition Diamond Ballout to join the incredibly popular Killawatt Freestyle Highlighter family in a matter of days. DAYS!
Look at this babe keeping us all on our toes.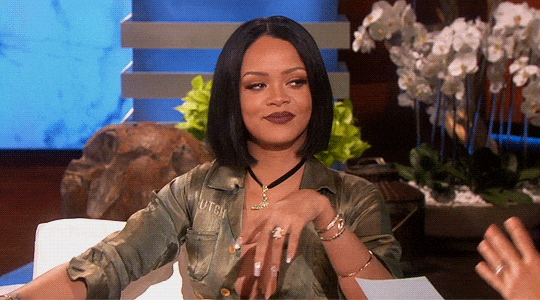 The uber-edgy slate grey cream-powder hybrid looks stunning in its own right which is no surprise, but there's even more reason to clear room in your beauty cabinet -- as if we needed one though, right?
As the bad gal herself explained in an Instagram post, this "ultralit, platinum shade" is extra-special as all proceeds from sales will go to a cause close to her pure, precious heart, and that is the Clara Lionel Foundation.
The "Diamonds" singer founded the CLF six years ago in honour of her grandparents, Clara and Lionel Braithwaite, and since then she and the charity have achieved a whopping amount, including building schools for young girls in Malawi, and assisting in the arftermath of US Hurricane Sandy and Typhoon Haiyan in the Philippines.
Of the Fenty/CLF collab, Rih said, "my mission is to change and save as many lives as possible, and I'm so happy you can join me!!"
In light of the whole charity connection, suddenly the name of the product, Diamond Ballout, makes so much more sense. It doesn't just name check Rih's mega-hit "Diamonds," but is also a nod to her very own annual Diamond Ball that raises funds for CLF. Her MIND.
Now down to business. The lit 'lighter is dropping at midnight EST on Wednesday August 1 in the US -- which will be about 2pm Thursday August 2 in Aus, or midday if you're on the west coast -- and is exclusive to Fenty Beauty.
We're not entirely sure of the price point for the limited edition version, but the standard Killawatt range goes for about $46 a pop, and best of all, the online store does indeed ship to our shores.
So prep yo wallets, your MU brushes and your cheeks for some Diamond Ballout action, as this baby is gonna make you look and FEEL beautiful, inside and out.
Feature image: Getty and Instagram/@badgalriri.