Expert Tips On How To Get Meghan Markle's Messy Bun
It's easier than you think!
Meghan Markle's now-signature messy bun is quite possible the hairstyle of the year -- nay, decade -- and now we have the inside word on how you can recreate the Duchess' chic yet relaxed 'do at home.
For all the hot deets on the elegantly undone bun Meghan most famously wore at her wedding -- sigh -- and at several official engagements since, we turned to those in the know at Sydney-based salon Barney Martin.
Senior stylist and colourist Penny kindly broke down the Duchess' "natural and soft-looking" hairstyle for ten daily, and TBH it doesn't sound all that difficult to achieve -- yay!
We're told that it's an especially good style for "day-old hair" that isn't too clean and slippery, which is all the reason we need to skip that next shampoo.
Here's your step-by-step guide to princess-worthy hair, with all the products you need included below. Now go forth and sparkle like Markle.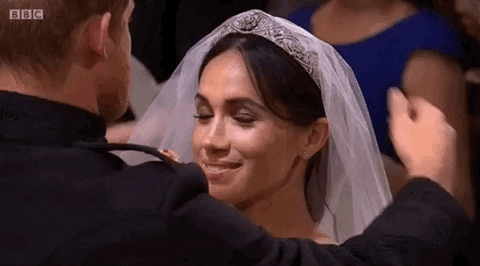 Step 1
Apply some Oribe Supershine Light Moisturising Cream to towel-dried hair -- this adds moisture where needed and polish any fly-aways -- then give it a blast with the hair dryer. Oribe Supershine is a brilliant product to use on day two or three after a blow-dry, or just on the ends of dry hair.
Step 2
Using a soft bristle Mason Pearson brush, lightly back-brush sections of hair under the crown -- this will stop hair from going flat at the crown. Lightly spritz some Oribe Swept Up Volume Powder into the roots to give them some grip and add volume where you want it. Then lightly brush the hair back over the crown.
Step 3
Section your hair into two sections, one at the front and one at the back, making sure to keep the hair in front of the ears loose. Using your hands, scoop up the back section of hair into a pony tail and secure with a hair tie. Now divide your pony into two sections, twisting each section in different directions then wrap around the hair tie loosely. Use Oribe's Swept Up powder to add grip where needed.
Step 4
Take the remaining section of hair at the front, pull it back loosely and add it to your loose bun using bobby pins to secure. Allow loose pieces of hair to fall out along the hairline to add softness to your look.
Here's your product shopping list ...
Oribe Supershine Light Moisturising Cream
Oribe Supershine Light Moisturising Cream, $72.
Mason Pearson brush
Mason Pearson Pure Bristle + Nylon Mix Brush - Large, $275.
Oribe
Swept Up Volume Powder
Oribe Swept Up Volume Powder, $63.
Lady Jayne elastics
Lady Jayne Elastics, Snagless, Thin, Brown 18 pack, $5.25
Models Prefer bobby pins
Models Prefer Super Grip Bobby Pins Brown 120 pack, $8.99
Feature image: Getty.