26 Female Stars Who Rocked The Heck Out Of A Suit
Suits 'em.
Sure, dresses and gowns are fun and all... but there's nothing quite like striding out in a smart trouser suit.
There's so much to love about this two-piece ensemble, as the lovely ladies herein -- Meghan Markle, Bella Hadid, Rihanna et al. -- know too well.
Unlike most frocks and skirts for that matter, pants have pockets -- so practical! -- and also allow for spontaneous cartwheels, sans the undie-flash.
That's right up our Cate's alley, don't you think?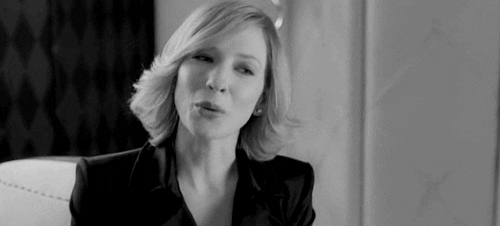 The there's the jacket, the crowning glory, and all the delightful options it offers. Single-breasted? Double? Shirt? No shirt? (We see you K-Stew -- ooh-ah!)
There's nothing left to do but let these 23 suited-up fashionistas and their chic tailoring do the talking. Enjoy.
Cate Blanchett
Blake Lively
Meghan Markle
Ellie Goulding
Bella Hadid
Mila Kunis
Amber Heard
Emma Watson
Kristen Stewart
Natalie Dormer
Rihanna
Sarah Paulson
Kate Upton
Naomie Harris
Liv Tyler
Julia Roberts
Evan Rachel Wood
Kate Moss
Thandie Newton
Rosie Huntington-Whiteley
Rachel Weisz
Cara Delevingne
Bianca Jagger (then)
Bianca Jagger (now)
Julianne Moore
Léa Seydoux
Diane Keaton
Holland Taylor
Feature image: Getty.